Publication:
La (de)securitización en UNASUR (2008-2016). Suramérica construyendo su dimensión de seguridad regional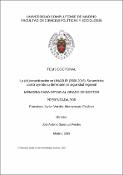 Files
Advisors (or tutors)
Editors
Publisher
Universidad Complutense de Madrid
Abstract
¿Cómo se articula una cooperación regional en materia de seguridad y defensa a escala suramericana en el siglo XXI? ¿Para quién? ¿Qué amenaza/s/riesgo/s se identifica/n? ¿Con qué resultado/s? Estas interrogantes dan origen a este trabajo, centrado en la Unión de Naciones Suramericanas (UNASUR). Como se verá, tras unos primeros intentos en los noventa y unos antecedentes directos desde los 2000, este organismo de diálogo, cooperación y concertación regional con carácter multidimensional se puso en marcha en 2008 por parte de los 12 países suramericanos: Argentina, Brasil, Bolivia, Colombia, Chile, Ecuador, Guyana, Paraguay, Perú, Surinam, Uruguay y Venezuela. A continuación, sin embargo, se tratará de trascender ese caso de estudio para dar respuesta a otras cuestiones de fondo relevantes para el estudio de las relaciones internacionales, como es el triángulo conceptual que enlaza tres nociones esencialmente disputadas como las de seguridad, regionalismo o poder.Así, el principal objetivo es analizar la construcción del pilar de seguridad y defensa en la Unión de Naciones Suramericanas (UNASUR), e indagar en qué medida éste ha incidido en la estructura de seguridad suramericana desde su creación. Como experiencia de cooperación regional integrada por el conjunto de países suramericanos, UNASUR es una de las expresiones más claras de un regionalismo emergente en América Latina a finales de los 2000, calificado según algunos expertos como "posliberal"174 (Motta y Ríos, 2007; Sanahuja, 2009) "heterodoxo" (Van Klaveren; 2012) o "post-hegemónico" (Riggirozzi y Tussie, 2012)...
How regional cooperation on security and defence is arranged in South America in the 21st century? For whom? What threat/s or risk/s is/are identified? What are the results? These questions are at the origins of this work that is focused on the Union of South American Nations (UNASUR). As will be further analysed herein, this regional organisation based on dialogue, cooperation and coordination, multidimensional by nature, was launched in 2008 by the 12 South American countries: Argentina, Brazil, Bolivia, Colombia, Chile, Ecuador, Guyana, Paraguay, Peru, Suriname, Uruguay and Venezuela, after some initial attempts in the nineties and direct precursors since 2000. However, the scope of this case study is not limited, since it will try to find an answer to other theoretical issues that are relevant in the academic field of international relations, such as the conceptual triangle that links three essentially disputed notions: security, regionalism and power.Thus, the main objective of this paper is to analyse the formation of the security and defence pillar of the UNASUR, and to research the extent of its influence in the South American security structure since its inception. As an experience of regional cooperation, encompassing all the South American countries, the UNASUR is a clear-cut expression of an emerging pattern of Latin American regionalism of the mid-2000s, described by some scholars as 'post-liberal' (Motta and Ríos, 2007; Sanahuja, 2009) 'heterodox' (Van Klaveren, 2012) or 'post-hegemonic' (Riggirozzi and Tussie, 2012)...
Description
Tesis de la Universidad Complutense de Madrid, Facultad de Ciencias Políticas y Sociología, leída el 10-07-2018
Collections