Publication:
Impacto de la crisis COVID-19 en las desigualdades de género en España. Un estudio comparativo entre cinco comunidades autónomas.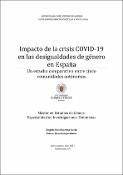 Authors
Advisors (or tutors)
Editors
Abstract
La pandemia de COVID-19 ha afectado los hábitos de vida, trabajo y relaciones interpersonales de la población. Partiendo del análisis de desigualdades sociales en salud y de la salud como una reivindicación feminista, se ha realizado un análisis cuantitativo de la Encuesta de Salud Mental (CIS, 2021) y de la Encuesta de Población Activa (INE, 2021), para analizar cómo la gestión de la pandemia ha repercutido en la desigualdad de género en España en el ámbito laboral y de salud mental. Los resultados muestran que las desigualdades han aumentado en todas las comunidades analizadas (Andalucía, Asturias, Canarias, Cataluña, Madrid), dado que la pandemia no se ha gestionado con perspectiva de género. Dentro de los principales factores que sostienen la desigualdad entre hombres y mujeres cabe destacar el reparto del trabajo reproductivo o de cuidados.
The COVID-19 pandemic has affected the living habits, work and interpersonal relationships of the population. Based on the analysis of social inequalities in health and health as a feminist demand, a quantitative analysis of the Mental Health Survey (CIS, 2021) and the Active Population Survey (INE, 2021) has been carried out to analyze how the management of the pandemic has affected gender inequality in Spain in the field of work and mental health. The results show that inequalities have increased in all the communities analyzed (Andalusia, Asturias, Canary Islands, Catalonia, Madrid), given that the pandemic has not been managed with a gender perspective. Among the main factors that sustain inequality between men and women, the distribution of reproductive or care work should be highlighted.