Publication:
La Libertad en la obra de Nicolás Gómez Dávila.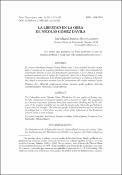 Advisors (or tutors)
Editors
Abstract
The Colombian writer Nicolás Gómez Dávila has the rare quality of having spar-ked the enthusiasm of dissident writers such as Savater or Volpi. His uniqueness as a literary reactionary distances him from conservative thinking and in his criti-cism of the modern world he ties in with the Dostoevsky, Nietzsche and Schopen-hauer school of thought. The claim for specific individual freedom and his criticism of political power, where there are also echoes of the reflections of the Romanian writer Ciorán, is very relevant.
Collections