Publication:
Bodies and desires on the internet: An approach to trans women sex workers' websites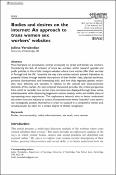 Authors
Advisors (or tutors)
Editors
Abstract
Most literature on prostitution centres exclusively on street and female sex workers. Considering the lack of inclusion of trans sex workers within research agendas and public policies, in this article I analyse websites where trans women offer their services in Portugal and the UK. I examine the way trans women escorts present themselves to potential clients through detailed descriptions of their bodies' sizes, physical attributes, personal characteristics and lovemaking skills, and how they negotiate gender, nationality, race, ethnicity and sexuality in relation to the cultural and socio-economic demands of the market. An intersectional framework provides the critical perspective from which to consider how certain trans narratives are displayed through these online advertisements while decentring hegemonic notions (mainly, white and middle class) of representing trans experiences. This exploratory research aims to better understand the online trans sex industry as a place of empowerment where 'beautiful' trans escorts can strategically position themselves in order to succeed in a competitive market and, simultaneously, lay claim for a certain degree of (finite) recognition.
Collections