Publication:
Péptidos helicoidales y derivados de chalcona en la búsqueda de moduladores de canales iónicos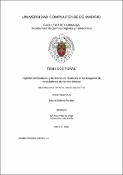 Files
Authors
Advisors (or tutors)
Editors
Publisher
Universidad Complutense de Madrid
Abstract
Ion channels are key elements of the plasmatic membranes. They are constituted as homo- or heteromeric protein complexes and selectively mediate the ion flux through the lipid bilayer to keep a gradient between both sides of the membrane. Cells make use of this gradient to regulate basic functions and, as a consequence, deregulation or abnormal functioning of ion channels are responsible for severe pathologies. Thus, and as a general approach, the modulation of such ion channels is crucial to treat several pathologies. Many of the explored strategies have been focused on the design of agonists and antagonists. However, alternative methodologies are required to overcome adverse effects associated to the classic design of substrate analogs. In this regard, the design of protein-protein interaction (PPI) and allosteric modulators are current powerful strategies..
Description
Tesis inédita de la Universidad Complutense de Madrid, Facultad de Farmacia, Departamento de Química Orgánica y Farmacéutica, leída el 17-09-2015
Collections