Publication:
Educación y turismo cultural en la España: Identificación de perfiles turísticos mediante la aplicación de árboles de decisión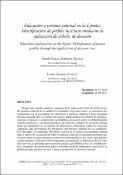 Advisors (or tutors)
Editors
Publisher
Universidad Nacional de Educacion a Distancia
Abstract
El presente estudio analiza el impacto de la educación sobre las preferencias de turismo cultural de la población española. En primer lugar, se comparan las variaciones en la asociación de educación y turismo cultural a nivel regional. En una segunda fase se emplea un modelo multivariable de árboles de clasificación para explicar y comprender la compleja asociación entre los determinantes socioeconómicos y sociodemográficos del turismo cultural. El presente trabajo pone de manifiesto la existencia de diferencias educativas entre las regiones españolas que determinan los resultados del turismo cultural de los españoles. Por otra parte, los hallazgos obtenidos a través de la técnica clasificatoria indican que el efecto de la educación sobre el turismo cultural se encuentra mediado por factores tanto socioeconómicos como sociodemográficos, los cuales que pueden variar el poder explicativo del componente educacional. A diferencia de los estudios previos, la presente aproximación analítica posibilita el uso de combinaciones complejas de predictores para la identificación de subgrupos específicos de población que pueden ser más o menos propensos al turismo cultural.
The present study analyses the impact of education on cultural tourism preferences of the Spanish population. First, the variations in the association between education and cultural tourism are compared at the regional level. In a second phase, a multivariate classification model based in decision trees is used to explain and understand the complex association between socioeconomic and sociodemographic determinants of cultural tourism. The present work demonstrates the existence of educational differences between the Spanish regions, differences that may determine the cultural tourism results of population in Spain. On the other hand, the findings obtained through the classification technique indicate that the effect of education on cultural tourism is mediated by socioeconomic and socio-demographic factors, which may vary the explanatory power of the educational component. Unlike previous studies, the present analytical approach enables the use of complex combinations of predictors for the identification of specific population subgroups that may be more or less likely to cultural consumption.
Collections