Publication:
Rentabilidad de la integración del servicio de radiodiagnóstico en la unidad de patología mamaria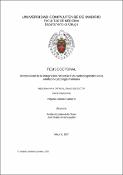 Files
Authors
Advisors (or tutors)
Editors
Publisher
Universidad Complutense de Madrid
Abstract
La patología mamaria tiene un impacto socio-­‐psicológico importante en la sociedad actual, debido a la incidencia de cáncer de mama. El 12% de las mujeres serán diagnosticadas de cáncer de mama en algún momento de su vida y, el 25% de estas pacientes fallecerán como consecuencia del proceso oncológico en un plazo medio de 10 años. Estos datos demográficos convierten al cáncer de mama en uno de los problemas sanitarios actuales más importantes, hecho que ha motivado un incremento de las consultas en Unidades Especializadas de Mama por temor a sufrir esta patología. Por eso es fundamental el óptimo manejo de dicha patología con el objetivo de ofrecer la curación a los pacientes y minimizar los efectos sociopsicológicos asociados a la enfermedad oncológica. Numerosos trabajos demuestran la importancia del concepto multidisciplinar en el manejo de la patología mamaria para optimizar los resultados, mejorar la eficiencia y proporcionar una atención de calidad a los pacientes. Según las recomendaciones de E.U.S.O.M.A. (European Society of Breast Cancer Specialists), las Unidades Multidisciplinares de Patología Mamaria han de estar constituidas por especialistas en Cirugía General, Ginecología, Radiología, Anatomía Patológica, Oncología, Cirugía Plástica y Enfermeras especializadas en Mastología; esto implica una formación superespecializada de cada uno de los miembros de dicha Unidad, permitiendo un trabajo en un ámbito multidisciplinar e interdisciplinar. De este modo, la evidencia demuestra que la atención proporcionada por un especialista formado en una determinada patología es más coste-­‐efectiva, las decisiones tomadas son adecuadas con mayor frecuencia y se reduce el número de exploraciones complementarias solicitadas...
Breast disease has an important socio-­‐psychological impact on society today, due to the incidence of breast cancer. 12% of women will be diagnosed with breast cancer at some point of their lives and 25% of these patients will die within an average of 10 years. With these demographics, breast cancer has become one of the most important sanitary issues, increasing the number of consultations in Breast Units because of the apprehensiveness for this disease. Therefore, an optimal management is essential with the aim of offering healing to patients and to minimize the socio-­‐psychological effects associated with oncological disease. Many studies evidence the importance of multidisciplinary concept in the management of breast disease to optimize outcomes, improve efficiency and provide quality care to patients. As recommended by the European Society of Breast Cancer Specialists, the Multidisciplinary Breast Pathology Units are to be comprised of General Surgeons, Gynecologists, Radiologists, Pathologists, Oncologists, Plastic Surgeons and specialist nurses in Mastology. This involves a super-­‐specialized training of each of the members of that unit. Thus, the evidence shows that care provided by a trained specialist is more cost-­‐effective, appropriate decisions are more often taken and the number of additional examinations requested is reduced...
Description
Tesis inédita de la Universidad Complutense de Madrid, Facultad de Medicina, Departamento de Cirugía, leída el 28-01-2016
Collections