Publication:
DemoCritics: aplicación Android de participación política con edición colaborativa en tiempo real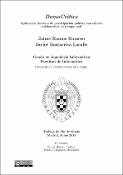 Files
Advisors (or tutors)
Editors
Abstract
Actualmente vivimos en una sociedad de cambio democrático en la que las personas comienzan a adquirir un papel determinante en el terreno político. Son cada vez más los movimientos sociales que proliferan a raíz del interés generado por participar en política. Esta participación se ha visto canalizada por la aparición de nuevas tecnologías que permiten establecer nuevas formas para que las personas se organicen y expresen su opinión. La gran mayoría de estas nuevas herramientas se desarrollan en un ámbito cercano a plataformas interconectadas en red y basadas en una interfaz Web. Encontrándonos en un momento sujeto a varias citas electorales que propicia el aumento del interés de las personas por involucrarse en política, el desarrollo de este tipo de herramientas se hace cada vez más necesario. Teniendo en cuenta este contexto, se plantea el desarrollo de una aplicación que proporcione acceso a nuevas formas de participación desde dispositivos móviles. Dicha aplicación tendrá dos objetivos claros: poner en un primer plano los programas electorales (que normalmente pocas personas leen) incentivando su lectura y debate; y abrir un espacio común en el que la ciudadanía exprese sus propuestas alternativas a las soluciones expuestas por los partidos políticos que les representan. Nos basaremos en el uso de tecnologías de Software libre ya existentes de edición colaborativa en tiempo real, adaptándolas a dispositivos móviles. Concretamente se explorará el uso de la plataforma Web Apache Wave, llevando a cabo un proceso de migración que permita explotar su potencial en dispositivos basados en Android. Esta migración supone un trabajo adicional que conlleva un esfuerzo de investigación y desarrollo de una plataforma innovadora, ya que no existe una tecnología de software libre equivalente en Android actualmente. Haciendo uso de esta tecnología los usuarios tendrán la oportunidad de redactar textos colaborativos en tiempo real. Como resultado de este trabajo se desarrollará una primera versión de la aplicación que, a modo de prueba de concepto, haga uso de las funcionalidades antes descritas. De esta manera el objetivo final que nos planteamos es poner en práctica su uso durante futuras citas electorales.
Nowadays we live in a society of democratic change in which people begin to take a decisive role in the political area. There are increasingly social movements that proliferate due to the interest generated by taking part in politics. This participation has been channeled by the emergence of new technologies that allows to establish new ways for people to organize and express their opinion. The vast majority of these new tools are developed in a scope near to Web-based interfaces and interconnected network platforms. Being as we are in a time subject to several electoral events that favours the increased interest of people involved in politics, the development of such type of tools is becoming increasingly necessary. Keeping in mind this context, we contemplate the development of an application that provides access to new ways of participation from mobile devices. This application will have two clear objectives: to bring to the forefront political programmes, which usually few people read, encouraging its reading and discussion; and open a common space in which citizens express their alternative proposals to those put forward by the political parties that represent us. We will base on the use of already existing Open-Source technologies for collaborative editing in real-time, adjusting them to mobile devices. Specifically we will explore the use of Web-based platform Apache Wave, carrying out a migration process that allows to take advantage of its potential in Androidbased devices. This migration supposes an additional work that involves an effort to research into the development of an innovative platform, because there is no equivalent free software currently on Android. By using this technology, users will have the opportunity to compose real-time collaborative texts. As a result for this work we will develop a first version of the application which, as a proof of concept, will make use of the features described above. Thus, the ultimate aim we set out for this project is to put into practice its usefulness during future electoral events.
Description
Trabajo de Fin de Grado en Ingeniería Informática (Universidad Complutense, Facultad de Informática, curso 2014/2015)