Publication:
El proceso de transformación del Sistema Político de Venezuela, 1959-2004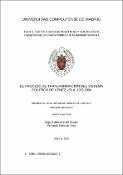 Files
Authors
Advisors (or tutors)
Editors
Abstract
En este Trabajo se investiga el proceso de transformación que ha experimentado el sistema político de Venezuela durante el último medio siglo. Para llevar a cabo este propósito se utiliza como herramienta teórica el Marco Conceptual para los Sistemas Políticos aportado por Easton, que se complementa con elaboraciones que provienen de la Teoría de la Democracia, de la Competencia, de los Partidos Políticos, del Populismo etc. El punto de partida es considerar al sistema político constituido por un haz de interrelaciones que se abstrae de toda la conducta social observada. Este conjunto de interrelaciones esta orientado por la asignación de cosas valiosas para la sociedad por vía de la autoridad. De acuerdo con la Investigación, es posible determinar dos diferentes sistemas políticos: La Democracia Liberal y el Neo Autoritarismo Carismático y Militarista. El primero se desenvuelve a lo largo de tres etapas: La Consolidación Democrática, el Duopolio de Partidos y el Equilibrio Inestable. El segundo ha dado origen a la etapa de la Revolución Bolivariana y continúa su desarrollo hasta la fecha. Para explicar el paso de un sistema a otro, y la evolución de una etapa a otra, se propone una interpretación sistémica. En el primer caso, la causa fundamental estriba en que las fallas reiteradas de producto inducen una baja irreversible en el reservorio de apoyo (legitimidad) en que se sostiene el régimen considerado como objeto político. En cuanto a las etapas sostenemos que estas pasan de una a otra en la medida en que el sistema evoluciona y resulta afectado uno de sus rasgos específicos: Por ejemplo, el papel que cumple algún actor político, el nivel de satisfacción de las demandas, el cambio abrupto de objetivos. En la Investigación se examina detenidamente cada una de las etapas que acabamos de señalar. En cuanto al paso de un sistema a otro sostenemos que la explicación básica radica en las reiteradas fallas de producto que, en el curso de los años, se van presentando en los ámbitos simbólicos, económicos, sociales y políticos. De igual manera discutimos la naturaleza de cada sistema así como cada una de las fallas de producto señaladas. Esta interpretación se ofrece sin desmedro de las condiciones coyunturales que impactaron la actividad política las cuales ponderamos cuidadosamente. Además, la investigación evalúa el papel de los actores políticos, la pauta del producto en cada etapa, la evolución electoral, los pactos y acuerdos, los recursos materiales disponibles, los contenidos ideológicos y el papel crucial desempeñado por la producción y exportación de hidrocarburos. In this Work is investigating the transformation process that has experienced the political system of Venezuela during the past half century. To carry out this purpose is used as a tool the theoretical Framework for Political Systems contributed by Easton, which is complemented by elaborations that come from the Theory of Democracy, Competition, Political Parties, and Populism etc. The starting point is to consider the political system consisting of a beam of relationships that are abstracts of any social behaviour observed. This set of interrelations is guided by the allocation of valuable things to society by way of authority. According to the Research, is possible to identify two different political systems: The Liberal Democracy and the Neo Authoritarianism Charismatic and Militarist. The first unfolds along three stages: The Democratic Consolidation, the Duopoly of Political Parties and the Unstable Equilibrium. The second has led to the stage of the Bolivarian Revolution and continues its development to date. To explain the passage of a system to another, and the evolution of a stage to another, we propose a systemic interpretation. In the first case, the root cause lies in that repeated failures of product induce an irreversible decline in the reservoir of support (legitimacy) that requires the regime regarded as political object. As to the stages we argue that these are passed from one to another in the extent to which the system evolves and is affected one of its specific traits: For example, the role that meets some political player, the level of satisfaction of the demands, the abrupt change of objectives. In the Research is closely examined each one of the stages that we have just noted. As to the passage of a system to another we maintain that the basic explanation lies in the repeated failures of product that are presenting in the fields symbolic, economic, social and political. Similarly we discussed the nature of each system as well as each of the failures of product identified. This interpretation is offered without prejudice to the cyclical conditions that struck the political activity which we weigh carefully. In addition, the investigation assesses the role of political actors, the pattern of product at every stage, the electoral evolution, covenants and agreements, the material resources available, the ideological content and the crucial role played by the production and export of hydrocarbons.
Description
Tesis de la Universidad Complutense de Madrid, Facultad de Ciencias Políticas y Sociología, Departamento de Ciencia Política y de la Administración III, leída el 03-03-2008
Collections