Publication:
Hidronefrosis diagnosticada prenatalmente y estenosis pieloureteral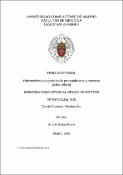 Files
Authors
Advisors (or tutors)
Editors
Publisher
Universidad Complutense de Madrid
Abstract
Las anomalías del tracto urinario representan el 20-50 % de todas las anomalías congénitas detectadas por ecografía (ECO) y de ellas el 50 % se presentan como hidronefrosis (HN). La dilatación del aparato urinario afecta del 1 al 4,5 % de todas los embarazos y siendo la causa más frecuentes la estenosis de la unión pieloureteral(EPU).Se han determinado diversos parámetros ecográficos prenatales que nos ayuden a predecir qué hidronefrosis tienden a la resolución, cuales no van a requerir cirugía y las que van a diagnosticarse de EPU. De todos ellos los que muestran una mayor posibilidad de predicción son el diámetro ántero-posterior de la pelvis (DAP) y los grados de hidronefrosis según la clasificación de la Sociedad Fetal de Urología (SFU).Nuestros objetivos principales del estudio son analizar a partir de qué grado y de qué diámetro anteroposterior de la pelvis (DAP) de las hidronefrosis prenatales (HNP) hay correlación con el desarrollo de EPU y valorar la función renal postnatal y su relación con el diámetro anteroposterior de la pelvis, grado de hidronefrosis y adelgazamiento dela corteza prenatal.VI. b). Material y métodos. Hemos llevado a cabo un estudio retrospectivo con una cohorte de pacientes con diagnóstico prenatal de HN en el periodo comprendido entre los años 2003 y 2013.Se han descartado aquellos casos de los que no se pudieron obtener datos postnatales, y con los fetos con otras malformaciones, éxitus pre o postnatales, los casos de dilatación ureteral, duplicidad renal, ectopia ureteral, displasia quística renal y aquellos casos diagnosticados postnatalmente como reflujo vésico ureteral y megauréter obstructivo. Una vez excluido los casos referenciados anteriormente han quedado para analizar 103 pacientes con 151 unidades renales (UR)...
Antenatally urinary tract abnormalities (UTA) are the most common detected anomalies on prenatal ultrasonography (US), accounting for 20- 50% of all congenital disorders and about 50% of these abnormalities manifest as hydronephrosis. Dilation of the urinary tract is found with a range of 1-4,5% of all pregnancy and the most common cause is the ureteropelvic junction obstruction (UPJO). Several prenatal ultrasound parameters have been determined to help us predict which hydronephrosis tend to resolve, which will not require surgery and those that will be UPJO in the future. Of all of them, those that show a greater possibility of prediction are the antero-posterior diameter of the pelvis (APD) and the degrees of hydronephrosis according to the classification of the Society of Fetal Urology (SFU).The purpuses of the study are to analyze the threshold APD and the grade thatdefines clinically significant prenatal hydronephrosis and UPJO and to evaluate the postnatal renal function and its relation with the anteroposterior diameter of the pelvis,degree of hydronephrosis and thinning of the prenatal cortex.VII. b.) Material and methods. We designed a retrospectively study of a patients cohort with prenatal diagnosis of prenatal hydronephrosis (PHN) in the period between 2003 and 2013. Exclusion criteria included: those cases which postnatal date could not be obtained, fetuses with other malformations, antenatal death or postnatal, ureteral dilation, renal duplicity, ureteral ectopia, cystic renal displasia and those cases diagnosed postnatally with vesicoureteral reflux (VUR) and obstructive megaureter. Once excluded the referenced cases above we had finally to review 103 patients with 151 renal unit (RU)...
Description
Tesis de la Universidad Complutense de Madrid, Facultad de Medicina, Departamento de Pediatría, leída el 03-10-2018
Collections