Publication:
Marcadores de velocidad de envejecimiento y predictores de longevidad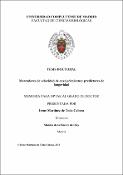 Files
Authors
Advisors (or tutors)
Editors
Publisher
Universidad Complutense de Madrid
Abstract
El envejecimiento puede definirse como un proceso universal en el que se produce toda una serie de cambios biológicos, y que se caracteriza por una disminución progresiva y generalizada de la función del organismo y por una menor capacidad para restaurar la homeostasis. Además, el proceso de envejecimiento presenta una gran heterogeneidad, de manera que los individuos de una población, pertenecientes a una misma especie y con idéntica edad cronológica, pueden hacer este proceso a diferente velocidad. Este hecho ha llevado a desarrollar el concepto de edad biológica, para cuyo establecimiento es necesario determinar una serie de variables que cambian con la edad y que están relacionadas con una muerte prematura. Esta edad biológica es más adecuada que la cronológica como indicador del estado de salud, el rendimiento físico y mental, así como de la velocidad a la que está envejeciendo un individuo...
Aging may be defined as a universal process in which a series of biological alterationstake place and which is characterized by the progressive and general deterioration of thefunctions of the organism that leads to a lower ability to adaptively react to changes andpreserve homeostasis. Moreover, the aging process is heterogeneous in such a way, that thediverse members of a population of the same chronological age can be aging at different rates.This phenomenon led to the concept of "biological age". For the determination of this it isnecessary to identify a series of markers that change with age and that are associated with apremature death. This biological age is more accurate than the chronological one as an indicatorof the health status, physical and mental capacity as well as of the rate of aging experienced byeach individual...
Description
Tesis inédita de la Universidad Complutense de Madrid, Facultad de Ciencias Biológicas, leída el 20-09-2019
Collections