Publication:
Libertad de expresión artística y discurso del odio a la luz del «caso Valtònyc»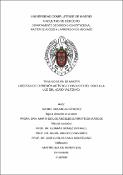 Authors
Advisors (or tutors)
Editors
Abstract
El «caso Valtònyc» ha puesto de manifiesto la complicada relación que existe entre el derecho a la libertad artística y el denominado «discurso del odio». Este célebre caso, que se encuentra aún pendiente de ser resuelto por el Tribunal Europeo de Derechos Humanos, ha sido analizado desde múltiples disciplinas jurídicas: derecho procesal-penal, derecho penal, derecho constitucional y derecho internacional. La ausencia de doctrina constitucional y europea acerca de los límites del derecho a la libertad artística empujó a los tribunales españoles a analizar las expresiones del artista conforme a los parámetros propios del derecho a la libertad de expresión. En aplicación de estos criterios, los tribunales rechazaron que las expresiones pudieran gozar de amparo constitucional y terminaron imponiendo al artista una pena de tres años y seis meses de prisión, poniendo en cuestión la observancia del principio de proporcionalidad penal.
The "Valtònyc case" has highlighted the complicated relationship between artistic freedom and so-called "hate speech". This famous case, which is still pending to be resolved by the European Court of Human Rights, has been analyzed from multiple legal disciplines: criminal procedure law, criminal law, constitutional law and international law. The absence of constitutional and European doctrine about the limits of artistic freedom prompted Spanish courts to analyze the artist's expressions in accordance with the parameters of freedom of speech. In application of these criteria, the courts rejected the expressions could enjoy the constitutional protection and ended up imposing a prison sentence of three years and six months on the artist, which calls into question the observance of the principle of penal proportionality.