Publication:
Áreas de mejora en la atención enfermera a la población transgénero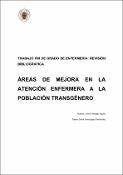 Authors
Advisors (or tutors)
Editors
Abstract
Introducción: Las personas transgénero experimentan una discriminación sistemática que impacta negativamente sobre la atención sanitaria que reciben. Nuestro propósito se centra en la identificación de las áreas de mejora descritas en los estudios consultados y la concreción de al menos una medida para dar respuesta a una de las carencias identificadas. Metodología: Revisión bibliográfica narrativa con búsqueda en 8 bases de datos científicas usando tanto descriptores Decs y Mesh como lenguaje natural, con inclusión de resultados de una búsqueda inversa y de textos legales e institucionales. Resultados: Los principales problemas identificados son: una atención sanitaria deficitaria como producto de la marginalización y el estigma social del grupo; mayor tasa de enfermedades mentales junto con hábitos tóxicos y una mayor tasa de suicidio; un empobrecimiento de la calidad de vida de las personas mayores transgénero; mayor prevalencia de infecciones de transmisión sexual y una falta de información, investigación y representación de la población transgénero. Discusión: De acuerdo con lo propuesto por diversos autores, la inclusión de las identidades trans en la historia clínica permite la obtención de datos para poder impulsar la labor investigadora y asistencial, además de visibilizar al colectivo. Se propone un lenguaje estandarizado para ello basado en los términos más señalados en la bibliografía Conclusiones: Si bien la disponibilidad de información sigue siendo escasa, hay evidencia suficiente para justificar la necesidad de investigar y ahondar en el conocimiento de los principales problemas de salud que afectan a este colectivo
Introduction: Transgender population experience systematic discrimination that negatively affects health services as a result. Our aim is to address areas of improvement identified in the consulted bibliography and to provide a solution for one of the identified scarcities. Methods: Narrative literature review, performed by accessing 8 different databases, using both Decs and Mesh controlled vocabulary as well as natural language and adding results from a snowball method search along with legal and institutional texts of interest. Results: The main adverse health outcomes are: inadequate healthcare, related to marginalization and social stigma; higher rates of mental health issues along with toxic habits and suicide; lower quality of life of elder transgender people; higher prevalence of sexually transmitted diseases and a paucity of information, research and representation of the transgender population. Discussion: According to different authors, registering trans identities on clinical records allows data to be collected in order to drive both research and healthcare, as well as enhancing visibility. A standardized language is proposed to do so, based on the most agreed terms Conclusions: Even though there is a paucity of information, there is enough evidence to justify the need for research and wider knowledge of the main health issues affecting this population.