Publication:
Biología estructural de inositol kinasas, enzimas implicadas en la regulación de inositol fosfatos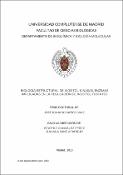 Authors
Advisors (or tutors)
Editors
Publisher
Universidad Complutense de Madrid
Abstract
Los inositol fosfatos (IPs) son un amplio grupo de moléculas implicadas en señalización celular. El I(1,4,5)P3 o IP3 es el IP más estudiado debido al papel que desempeña en la movilización de Ca2+, pero otros IPs también presentan papeles relevantes. Uno de los más importantes es el fitato o IP6. Entre las funciones del IP6 se encuentran la regulación de procesos celulares claves tales como la exportación del mRNA, reparación de DNA, apoptosis, y regulación de la estructura de la cromatina. Los niveles de IPs se encuentran estrictamente regulados por la acción de diferentes kinasas y fosfatas. En este trabajo se planteó el estudio de dos puntos clave en el metabolismo de los IPs: la regulación por Ca2+/Calmodulina de IP3 3-K (punto de inicio de la síntesis de IPs), y el studio de la IP5 2-K (enzima encargada de la síntesis de IP6), empleando una aproximación estuctural en ambos casos. La de estructura de IP5 2-K de Arabidopsis thaliana presenta un plegamiento de tipo , estando dividida en dos lóbulos, N- y C- terminal. Este último lóbulo contiene una región estructural nueva (CIP), implicada en la unión al inositol. Gracias a la estructura se identificaron residuos claves para la actividad enzimática. La cristalización y resolución de las formas libres y unidas a nucleótidos de IP5 2-K permitieron a su vez la caracterización de los cambios conformacionales que sufre esta enzima durante su ciclo catalítico. Por otro lado, la obtención de la estructura del complejo entre el CBD de IP3 3-K A y Calmodulina ha permitido caracterizar el dominio de unión a Calmodulina de IP3 3-K A. La combinación de datos a alta y baja resolución ha permitido proponer un modo de activación de IP3-3K por Calmodulina. ABSTRACT. Inositol phosphates (IPs) are a wide group of molecules involved in cell signalling. I (1,4,5) P3 or IP3 is the most studied IP, due to its role in Ca2+ mobilization, but other IPs also have important roles. One of the most important is phytate or IP6. IP6 is involved in the regulation of key cellular processes such as mRNA exporting, DNA repair, apoptosis, and regulation of chromatin structure. IPs levels are tightly regulated by different kinases and phosphatases. Two key points in the metabolism of IPs were analysed during this work: the regulation by Ca2+/ calmodulin of IP3 3-K (the starting point for the synthesis of IPs) and the structure of the IP5 2-K (the enzyme responsible for the synthesis of IP6). IP5 2-K from Arabidopsis thaliana has a  folding divided in two lobes, N-terminal and C-terminal lobes. C-terminal lobe contains a new structural region (CIP region), involved in inositide binding. Employing the structure, different key residues for enzyme activity was identified. Crystallization and solution of free and bound to nucleotide forms of IP5 2-K allowed us the characterization of the conformational changes undergone by this enzyme during the catalytic cycle. The structure of the complex between the CBD of IP3 3-K A and calmodulin allowed us to characterize the calmodulin-binding domain of IP3 3-K A. The combination of high and low-resolution data allowed us to propose a model for IP3 3-K activation upon calmodulin binding.
Description
Tesis inédita de la Universidad Complutense de Madrid, Facultad de Ciencias Biológicas, Departamento de Bioquímica y Biología Molecular, leída el 23/09/2013
Collections