Publication:
La adaptación teatral de textos narrativos en España, 1972-2012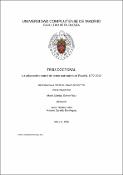 Files
Advisors (or tutors)
Editors
Publisher
Universidad Complutense de Madrid
Abstract
Novel or story adaptations and also dramatic texts versions, that need to be translated and updated to modern audiences are quite frequent in today`s theatre. This study aims to show the state of contemporary stage adaptation of narrative texts and, specifically, its evolution in Spain in the last forty years (1972-2012). To do this, I have tried to gather, first, all the terminology associated with the concept of stage adaptation: version, dramaturgy, rewriting, translation, interpretation, updating and consolidation. The theoretical part of the work begins with the various definitions of the concept of dramatization. All the positions reflected by theorists and specialists in the field come together when explaining the term adaptation or theatre version: the intervention on the original text is based on the transformation or change, radical or superficial, for its effective representation in the theatre. In contemporary times, the concept of adaptation applies to any kind of intervention, from the translation of the original (and rewriting) to the dramaturgical work involved in creating a new sense. In turn, any theatre adaptation requires a dramaturgical operation and supports all possible moves: reorganization of the story, breakage, reduced characters, dramatic concentration, incorporation of foreign texts, installation and collage, changes to the plot, etc. Although there is no definitive model for the theatre adaptation of works, several authors and theatrical theorists propose guidelines and types of adaptation to the transformation of a work into another or one genre into a different one; and regarding narrative texts, provide criteria for interpreting the original text. The issue for many authors is the danger of modifying or betraying the sense or the form of the original text, considering it as simple material for the play. Finally, it follows that there is affinity of thought among authors finding that there is no differentiation between adaptation and version: both terms refer to the same in the theatrical event and are also terms used equally for the countless film adaptations of novels and plays...
Description
Tesis inédita de la Universidad Complutense de Madrid, Facultad de Filología, leída el 16-12-2015
Collections