Publication:
Estatus social auto-percibido y sesgos en un dilema social sobre intervención en un conflicto entre pares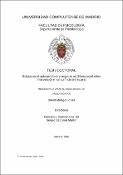 Files
Authors
Advisors (or tutors)
Editors
Publisher
Universidad Complutense de Madrid
Abstract
El propósito de este trabajo fue realizar una serie de estudios psicológicos sobre el estatus social humano, las decisiones de intervención en un conflicto hipotético entre pares; presentado por medio de un dilema social y las posibles consecuencias de tales decisiones. Para este fin, se investigaron muestras de jóvenes universitarios de dos distintas procedencias: Madrid, España y San José, Costa Rica. El estatus social es una de las variables que más frecuentemente se ha relacionado con las intervenciones durante los conflictos. Dada la importancia de la misma, el primer estudio empírico procedió a recabar evidencias de calidad de una medición de estatus social auto-percibido, esta estuvo compuesta por dos subescalas: dominancia auto-percibida y prestigio auto-percibido. Los procedimientos de validación incluyeron la traducción inversa inglés-español del instrumento así como procedimientos analíticos descriptivos, de diferencias de grupos, análisis factoriales exploratorios, análisis confirmatorios, análisis de congruencia e invarianza factorial, análisis de fiabilidad y análisis correlacionales con otras variables criterio (estrategia de historia de vida, dimensiones de la empatía y deseabilidad social). Los resultados mostraron que el modelo bidimensional de estatus (dominancia y prestigio cultural) era adecuado para ambos contextos estudiados. Por otra parte, los resultados obtenidos en los análisis correlacionales de la dominancia y el prestigio con las variables criterio fueron menos consistentes entre las diferentes muestras...
The objective of this work was to develop psychological studies about human social status, decisions about interventions in a hypothetical peer conflict presented as a social dilemma and possible consequences of such decisions. Samples of university students from two different places were studied: Madrid, Spain and San José, Costa Rica. Social status is one of the most frequent variables related with interventions in ongoing conflicts. Because this importance, the first empirical study established the psychometric quality of a self-perceived social status measure, it was composed by two subscales: self-perceived dominance and self-perceived prestige. Validation procedures include the back-translation (English-Spanish) of the measure, as well as descriptive analysis, group differences analysis, exploratory and confirmatory factorial analysis, congruence and factorial invariance analysis, reliability analysis and correlation analysis with criteria variables (life history strategy, dimensions of empathy and social desirability). Results showed that the bidimensional model of social status (dominance and cultural prestige) was adequate for both contexts. Correlation analysis showed that the association of the criteria variables with dominance and prestige were less consistent between different samples...
Description
Tesis inédita de la Universidad Complutense de Madrid, Facultad de Psicología, Departamento de Psicobiología, leída el 05/02/2016
Collections