Publication:
The BES f(0)(1810): a new glueball candidate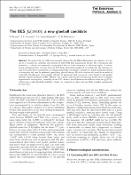 Advisors (or tutors)
Editors
Abstract
We analyze the f(0)(1810) state recently observed by the BES collaboration via radiative J/psi decay to a resonant phi omega spectrum and confront it with DM2 data and glueball theory. The DM2 group only measured omega omega decays and reported a pseudoscalar but no scalar resonance in this mass region. A rescattering mechanism from the open flavored K (K) over bar decay channel is considered to explain why the resonance is only seen in the flavor asymmetric omega phi branch along with a discussion of positive C-parity charmonia decays to strengthen the case for preferred open flavor glueball decays. We also calculate the total decay width of a glueball with this mass to be roughly 100 M (K) over bar eV, in agreement with the narrow, newly found f(0), and smaller than the expected estimate of 200-400 MeV. We conclude that this discovered scalar hadron deserves further experimental investigation, especially in the K channel, and if shown to be different from the f(0)(1710), will become a solid glueball candidate. Finally we comment on other, but less likely, possible assignments for this state.
Description
©Springer-Verlag / Società Italiana di Física 2007
Citation
1. BES Collaboration, M. Ablikim, et al., Phys. Rev. Lett. 96, 162 002 (2006) [arXiv:hep ex/0602031] 2. J.R. Pelaez, G. Rios, Phys. Rev. Lett. 97, 242 002 (2006) [arXiv:hep-ph/0610397] 3. Y.A. Simonov, Phys. Lett. B 249, 514 (1990) 4. F.J. Llanes-Estrada, S.R. Cotanch, P. Bicudo, J.E. Ribeiro, A.P. Szczepaniak, Nucl. Phys. A 710, 45 (2002) [arXiv:hepph/ 0008212] 5. C.J. Morningstar, M.J. Peardon, Phys. Rev. D 60, 034 509 (1999) [arXiv:hep-lat/9901004] 6. A. Szczepaniak, E.S. Swanson, C.R. Ji, S.R. Cotanch, Phys. Rev. Lett. 76, 2011 (1996) [arXiv:hep-ph/9511422] 7. UKQCD Collaboration, A. Hart, C. McNeile, C. Michael, J. Pickavance, Phys. Rev. D 74, 114 504 (2006) [arXiv:heplat/ 0608026] 8. G. Bali et al., Phys. Lett. B 309, 378 (1993) 9. F. Giacosa, T. Gutsche, V.E. Lyubovitskij, A. Faessler, Phys. Rev. D 72, 094 006 (2005) [arXiv:hep-ph/0509247] 10. V.V. Anisovich, AIP Conf. Proc. 619, 197 (2002) [arXivhep-ph/0110326] 11. P. Minkowski, W. Ochs, Eur. Phys. J. C 9, 283 (1999) 12. C. Amsler, F.E. Close, Phys. Lett. B 353, 385 (1995) [arXiv:hep-ph/9505219] 13. D.V. Bugg, Phys. Rep. 397, 257 (2004) [arXiv:hep-ex/ 0412045] 14. M. Chanowitz, Phys. Rev. Lett. 95, 172 001 (2005) [arXiv: hep-ph/0506125] 15. DM2 Collaboration, D. Bisello et al., Phys. Lett. B 192, 239 (1987) 16. MARK-III Collaboration, R.M. Baltrusaitis et al., Phys. Rev. D 33, 1222 (1986) 17. S.R. Cotanch, R.A. Williams, Phys. Rev. C 70, 055 201 (2004) [arXiv:nucl-th/0403051] 18. S.R. Cotanch, R.A. Williams, Phys. Lett. B 621, 269 (2005) [arXiv:nucl-th/0505074] 19. BES Collaboration, M. Ablikim et al., arXiv:hep-ex/ 0604045 20. MARK-III Collaboration, W. Dunwoodie, AIP Conf. Proc. 432, 753 (1998) 21. BES Collaboration, J.Z. Bai et al., Phys. Lett. B 472, 200 (2000) [arXiv:hep-ex/9908045] 22. Particle Data Group, S. Eidelman et al., Phys. Lett. B 592, 1 (2004) 23. J. Sexton, A. Vaccarino, D.Weingarten, Phys. Rev. Lett. 75, 4563 (1995) [arXiv:hep lat/9510022] 24. L. Burakovsky, P.R. Page, Phys. Rev. D 59, 014 022 (1999) 25. L. Burakovsky, P.R. Page, Phys. Rev. D [Erratum] 59,079 902 (1999)] [arXiv:hep ph/9807400] 26. E. Abreu, P. Bicudo, arXiv:hep-ph/0508281 27. F.J. Llanes-Estrada, P. Bicudo, S.R. Cotanch, Phys. Rev. Lett. 96, 081 601 (2006) [arXiv:hep-ph/ 0507205] 28. C.E. Carlson, J.J. Coyne, P.M. Fishbane, F. Gross, S. Meshkov, Phys. Rev. D 23, 2765 (1981) 29. D.V. Bugg, Phys. Lett. B 598, 8 (2004) [arXiv:hepph/ 0406293] 30. F.J. Llanes-Estrada, S.R. Cotanch, Nucl. Phys. A 697, 303 (2002) [arXiv:hep-ph/0101078] 31. F.J. Llanes-Estrada, S.R. Cotanch, Phys. Lett. B 504, 15 (2001) [arXiv:hep-ph/0008337] 32. S.R. Cotanch, C.M. Vincent, Phys. Rev. C 14, 1739 (1976) and references therein 33. P. Bicudo, S. Cotanch, F. Llanes-Estrada, P. Maris, E. Ribeiro, A. Szczepaniak, Phys. Rev. D 65, 076 008 (2002) [arXiv:hep-ph/0112015]. 34. P. Bicudo, G.M. Marques, Phys. Rev.D69, 011 503 (2004) [arXiv:hep-ph/0308073] 35. DM2 Collaboration, J.E. Augustin et al., Phys. Rev. Lett. 60, 2238 (1988) 36. A.P. Szczepaniak, Phys. Rev. D 69, 074 031 (2004) [arXiv: hep-ph/0306030] 37. S.J. Brodsky, T. Huang, G.P. Lepage, 9th SLAC Summer Inst. on Particle Physics (1981) 38. F.J. Llanes-Estrada, S.R. Cotanch, A.P. Szczepaniak, E.S. Swanson, Phys. Rev. C 70, 035 202 (2004) [arXiv:hepph/ 0402253] 39. J.E. Ribeiro, Phys. Rev. D 25, 2406 (1982) 40. E. van Beveren, Z. Phys. C 17, 135 (1983) 41. P.Bicudo, J.E.Ribeiro, J.Rodrigues, Phys. Rev. C 52, 2144 (1995) 42. P. Bicudo, J.E. Ribeiro, Phys. Rev. D 42, 1635 (1990) 43. P. Bicudo, Phys. Rev. C 60, 035 209 (1999) 44. I.J. General, P.Wang, S.R. Cotanch, F.J. Llanes Estrada, arXiv:0707.1286 45. M.A. DeWitt, H.M. Choi, C.R. Ji, Phys. Rev. D 68, 054 026 (2003) [arXiv:hep-ph/0306060] 46. W.J. Lee, D.Weingarten, Phys. Rev. D 61, 014 015 (2000) [arXiv:hep-lat/9910008] 47. F.E. Close, A. Kirk, Eur. Phys. J. C 21, 531 (2001) arXiv: hep-ph/0103173]
Collections