Publication:
El profesor técnico de servicios a la comunidad en equipos de orientación educativa y psicopedagógica de Castilla y León. Diagnóstico y perspectivas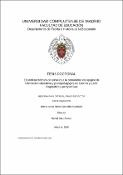 Files
Advisors (or tutors)
Editors
Publisher
Universidad Complutense de Madrid
Abstract
En España, en la actualidad, encontramos la figura profesional del Profesor Técnico de Servicios a la Comunidad, ubicada en los Equipos de Orientación Educativa, con distintos matices según la Comunidad Autónoma en la que se encuentre. Dicho profesional depende de la Consejería de Educación de la Comunidad Autónoma correspondiente y pertenece al cuerpo de profesores técnicos de formación profesional. La forma de acceso a este puesto de trabajo es mediante un proceso selectivo de concurso-oposición de ámbito regional. Una vez en su puesto de trabajo, el Profesor Técnico de Servicios a la Comunidad puede desempeñar su labor en dos vertientes diferentes: por un lado impartiendo docencia en la formación profesional específica de distintos ciclos formativos y por otro, en orientación. Esta última vertiente es la que nos ocupa en el presente estudio. De esta manera, contamos con Profesores Técnicos de Servicios a la Comunidad trabajando en Equipos de Orientación Educativa y Psicopedagógica. El modo en que enfoca cada uno de ellos su trabajo tiene tantas realidades como profesionales hay, debido a la trayectoria de la especialidad y otras muchas variables que analizamos centrándonos en el caso de estos profesionales en la Comunidad Autónoma de Castilla y León. Lo cierto es que el nombre de Profesores Técnicos de Servicios a la Comunidad nunca ha ayudado mucho a que se reconociera la figura profesional, por razones tan sencillas como que es largo, difícil de recordar y complicado de asociar a él las funciones que tiene. Por estas razones y otras que tratamos en nuestra investigación, constatamos que los Profesores Técnicos de Servicios a la Comunidad es un colectivo poco conocido, pero que posee una misión importante en la sociedad. Ésta es la situación que motiva a llevar a cabo el presente estudio...
In Spain, nowadays, we can find the professional figure of the Technical Teacher of Community Service in Educational Guidance Teams, with slight differences depending on the region where they work. Those teachers work for the education department in the Spanish regions and they are vocational training teachers. To be one of those professionals it is necessary to pass an exam which depends on the region where they want to work. When they work, there are two working field: teaching in vocational training or in orientation guidance, we are going to speak about the second one. This way, there are Technical Teachers of Community Service working in Vocational Guidance Teams. The way these professionals face their work may differ from each one of them, due to the field background and many other variables focusing on the teachers who work in Castilla y León. It is true that the name of technical teachers of community service has never helped to let the role of those teachers be known, because that name is long, difficult to remember and to be related with its roles. Because of these reasons and other ones which we are going to deal with in our research, we can state that Technical Community Service Teachers are not very known, but they have an important task in our society. This is the main reason to perform this current research...
Description
Tesis inédita de la Universidad Complutense de Madrid, Facultad de Educación, Departamento de Teoría e Historia de la Educación, leída el 14-01-2016
Collections