Publication:
El contrato de vitalicio de la Ley 2/2006 de 14 de junio, de derecho civil de Galicia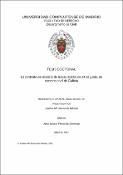 Files
Authors
Advisors (or tutors)
Editors
Publisher
Universidad Complutense de Madrid
Abstract
The survey and development of the contractual legal entity analyzed on this dissertation, aims to expound the contract of Vitalicio enshrined in the law «Ley 2/2006 de 14 de junio, de Derecho civil de Galicia» (the new Galician Civil Law Act), as one of the most suitable legal assistance solutions in the private sphere and applicable to dependents. I conclude that this contract turns out to be the most appropriate legal instrument to those people who, having a certain personal asset, can use it to warrantee their own assistance, in the attempt to ensure all their living conditions for the near future, in which they will be in need of healthcare and help. In order to demonstrate the wise choice of this topic, it is worth considering that my research has been mainly focused on the study and analysis of the 10 articles devoted to the treatment of the contract of Vitalicio, enshrined in the «Ley 2/2006 de 14 de junio, de Derecho civil de Galicia» (the new Galician Civil Law Act). In the study of this contractual legal entity, I have expounded my most critical point of view regarding the current «L.D.C.G» (Galician Civil Law Act) and provided my judgement in relation to the legal development attributed to the contract. I have not forgotten to address the Vitalicio's historical antecedents, doctrinal and legal conceptualization, subjective elements, legal nature, the approach to other contractual legal entities of our common law and the foreign law, obligation of the parties, etc. and concluding with the aspects related to the Tax Law this contract has been subjected to...
Description
Tesis inédita de la Universidad Complutense de Madrid, Facultad de Derecho, Departamento de Derecho Civil, leída el 19-01-2016
Collections