Publication:
Efecto de la ruta de síntesis y del tratamiento termomecánico en la microestructura y propiedades magnéticas de ZnFe2O4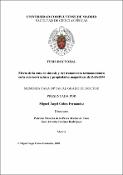 Files
Authors
Advisors (or tutors)
Editors
Publisher
Universidad Complutense de Madrid
Abstract
El interés por las ferritas, se remonta ya a finales del siglo XIX con el desarrollo científico y tecnológico, consolidándose con la producción de aleaciones y procesos productivos en las décadas de 1930 y 1940 hasta nuestros días por sus aplicaciones de transformación eléctrica, dispositivos electrónicos, antenas, sensores, entre otras, dependiendo de sus características magnéticas blandas o duras como materiales cerámicos de óxidos de hierro. Las propiedades magnéticas cambian significativamente cuando el tamaño de la ferrita se reduce a una escala nanométrica. Este aspecto se expresa aún más en la ferrita de zinc que tiene una característica singular al cambiar su régimen magnético de paramagnético (PM) a superparamagnético (SPM) y ferrimagnético (FiM), dependiendo del tamaño y de su parámetro de inversión, definido como el porcentaje de cationes de Fe3+ en los sitios tetraédricos de la espinela con la siguiente configuración en su fórmula estequiométrica (Zn1-δFeδ)[ ZnδFe2-δ]O4...
The interest in ferrites dates back to the end of the 19th century with scientific and technological development, consolidating itself with the production of alloys and production processes in the 1930s and 1940s to the present day for its applications in electrical transformation, electronic devices, antennas, sensors, among others, depending on their soft or hard magnetic characteristics, such as iron oxide ceramic materials.The magnetic properties change significantly when the size of the ferrite is reduced to a nanometric scale. This aspect is further expressed in zinc ferrite which has a unique characteristic when changing its magnetic regime from paramagnetic (PM) to superparamagnetic (SPM) and ferrimagnetic (FiM), depending on the size and its inversion parameter, defined as the percentage of Fe3+ cations in the tetrahedral sites of the spinel with the following configuration in its stoichiometric formula (Zn1-δFeδ) [ZnδFe2-δ] O4...
Description
Tesis inédita de la Universidad Complutense de Madrid, Facultad de Ciencias Físicas, Departamento de Física de Materiales, leída el 26-11-2020
Collections