Publication:
El Nuevo Testamento griego de la Políglota Complutense: los manuscritos del Vaticano y el Evangelio de Mateo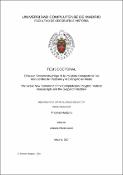 Files
Authors
Advisors (or tutors)
Editors
Publisher
Universidad Complutense de Madrid
Abstract
El primer Nuevo Testamento griego que fue impreso, editado por un grupo de filólogos humanistas en Alcalá de Henares, salió de la imprenta el 10 de enero de 1514. Una gran parte de este proyecto no se conoce debido a que las fuentes utilizadas por el equipo editorial han permanecido sin descubrirse hasta el día de hoy. Todos los prefacios del Nuevo Testamento en la Biblia Políglota Complutense mencionan manuscritos enviados por Leo X desde la Biblioteca Apostolica Vaticana. La mayoría de los eruditos han tomado estas declaraciones a su valor nominal, aunque algunos en los últimos años han puesto en duda su veracidad. El objetivo principal de esta investigación es evaluar si o no los manuscritos fueron enviados desde la Biblioteca Vaticana al equipo de Cisneros en Alcalá. Para ello, sin embargo, es necesario considerar de nuevo el contexto histórico de la Biblia Políglota Complutense, y luego centrarse en los manuscritos de la Biblioteca Vaticana. El capítulo 1 identifica la necesidad de un nuevo análisis del Nuevo Testamento griego de la Biblia Políglota Complutense, en particular, uno que compara los manuscritos del Vaticano y la columna griega del Nuevo Testamento Complutense. El estudio tiene dos componentes: (1) histórico, y (2) texto-crítico. El análisis histórico, que se encuentra en el capítulo 2, se centra en la identidad de los editores Complutense, cuando llegaron a Alcalá de Henares, y cuando realmente comenzaron su trabajo en la políglota...
The first printed Greek New Testament, which was edited by a group of humanist philologists in Alcalá de Henares, came off the press on January 10, 1514. Much about this project is not known because the sources utilized by the editorial team have to this day remained undiscovered. The New Testament prefaces in the Complutensian Polyglot Bible all mention manuscripts sent by Leo X from the Biblioteca Apostolica Vaticana. Most scholars have taken these statements at face value, although a couple in recent years have questioned their veracity. The primary focus of this investigation is whether or not manuscripts were sent from the Vatican Library to Cisneros' team in Alcalá. To do so, however, it is necessary to consider afresh the historical setting of the Complutensian Polyglot Bible, and then focus on the manuscripts of the Vatican Library. Chapter 1 identifies the need for a new analysis of the Complutensian Greek New Testament, in particular, one that compares the Vatican manuscripts and the Greek column of the Complutensian New Testament. The study has two components: (1) historical, and (2) text-critical. The historical analysis, found in chapter 2, concentrates on the identities of the Complutensian editors, when they arrived in Alcalá de Henares, and when their work on the polyglot actually began. The text-critical analysis begins in chapter 3 with a discussion of the Vatican collections, the Greek manuscripts housed in the Vatican that contain the Gospel of Matthew and would have been available for loan at the beginning of the sixteenth century, and the two earliest registers of loans...
Description
Tesis inédita de la Universidad Complutense de Madrid, Facultad de Geografía e Historia, leída el 04-10-2016
Collections