Publication:
Modelo para la minería de textos en el sector periodístico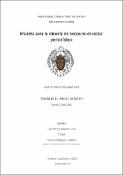 Authors
Advisors (or tutors)
Editors
Abstract
El siguiente trabajo de fin de Máster presenta un modelo de análisis basado en tecnologías de la minería de textos y su aplicación en el estudio de un caso concreto dentro del sector periodístico: la evaluación de las modificaciones de audiencia que durante el mes de marzo provoca la situación del estado de alarma en España. Con ello se consigue la automatización de exploraciones lingüísticas como la medición estadística de diferentes fenómenos, el modelado automático de tópicos y la extracción de sentimiento. Dicho modelo se presenta en forma de repositorio abierto de GitHub para futuras aplicaciones.
The following Master's Thesis consists in the presentation of an analysis model based on text mining technologies and its application in the study of a specific case of study within the journalism sector: the evaluation of the audience modifications caused by the lockdown in Spain during March 2020. Automatic linguistic explorations are achieved, such as the statistical measurement of different phenomena, the topic modeling automatization and an approach to sentiment analysis. This model is shared as an open GitHub repository for future applications.