Publication:
Dehesas, dólmenes y caminos. Una aproximación al fenómeno megalítico de la alta Extremadura desde la arqueología del paisaje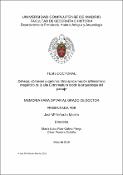 Files
Authors
Advisors (or tutors)
Editors
Publisher
Universidad Complutense de Madrid
Abstract
La tesis doctoral que aquí se presenta es el fruto de años de trabajo, de reflexiones,de idas y venidas, y conversaciones, muchas conversaciones, con personas que me ayudaron a distraerme y a buscar nuevas preguntas.A su vez, es consecuencia directa de un proyecto de investigación y excavación llevado a cabo por la Dra. Ruiz-Gálvez durante los años 1999-2000, centrado en la aparición del paisaje megalítico en Montehermoso y la puesta en valor de la dehesa boyal de la localidad. Por aquella época, siendo estudiante en elI.E.S. Gabriel y Galán de Montehermoso, pude participar como voluntario en las excavaciones allí realizadas. Posiblemente, sin que la dirección de la excavación lo tuviera en cuenta, se iniciaba un proyecto de Arqueología Comunitaria donde la población de la localidad, entre la que me encontraba, formó parte de la creación de conocimiento arqueológico. Posteriormente, colaboraría en el Laboratorio del Dpto. de Prehistoria de la U. Complutense de Madrid, estudiando los materiales recogidos durante las campañas de 1999 y 2000. Todo ese trabajo se materializa, en parte, en este trabajo de investigación, así como en los diferentes artículos, ponencias, posters y otros productos derivados de aquellas excavaciones.Por otro lado, me gustaría recalcar que aquel primer acercamiento a la Arqueología como voluntario allá por finales de los 90, hizo que mis reflexiones no se centraran únicamente en la aparición de los paisajes megalíticos de la provincia de Cáceres, en general, y de Montehermoso, en particular. Me hizo plantearme otra serie de cuestiones de interés y relevancia para mi carrera como investigador.Éstas se centraban, sobre todo, en el papel de la ciudadanía en los proyectos de investigación y su capacidad de generar conocimiento. De esta manera,me cuestionaba el papel de la Arqueología Académica y los/as profesionales dela Arqueología como únicos agentes capaces de producir conocimiento...
This doctoral thesis is the result of many years of work and reflections. It is the direct result of an investigation and excavation project conducted during 1999 and 2000. This dissertation is structured in different sections, its central theme is Megalithism as a prehistoric material reality; these sections, in fact, actually represent different scientific approaches of a particular case study. On one hand, there is the generation of academic discourses that refer to 'Extremadura Megalithism' and its socio-political circumstances, which is an inward looking approach, in line with Kuhn's suggestions (1983). On the other hand,the dissertation analyses the creation of Megalithic landscapes in Caceres in general, and in Montehermoso in particular. The analysis is done from the Landscape Archaeology theoretical perspective, supported by the use of a GIS(Geographic Information System) platform.Then, finally, as an epilogue, we approach the study from the perspective of Community Archaeology as a key element in the socioeconomic developmentof the agricultural societies in Northern Caceres. In this case, we start with the Community Archaeology premises established by S. Atalay (2012), which focus on the horizontal relationships between the local and the academic community. Lastly, it is worth mentioning that this piece of work has been possible thanks to securing a 'Jae Predoc' employment contract; based at the "Instituto de Ciencias del Patrimonio del Consejo Superior de Investigaciones Científicas "between 2010 and 2013.
Description
Tesis de la Universidad Complutense de Madrid, Facultad de Geografía e Historia, Departamento de Prehistoria, Historia Antigua y Arqueología, leída el 31-05-2018
Collections