Publication:
Presencia de estructuras estromatolíticas en las calizas cristalinas de Santa María de la Alameda (Provincia de Madrid, Sistema Central español)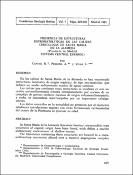 Advisors (or tutors)
Editors
Publisher
Servicio de Publicaciones de la Universidad Complutense de Madrid
Abstract
En las calizas de Santa María de la Alameda se han encontrado estructuras laminares de origen orgánico, de tipo estromatolito, que definen un medio sedimentario marino de aguas someras. Las calizas que contienen estas estructuras se localizan en una sucesión metasedimentaria situada inmediatamente por encima de un complejo de gneises ocelares masivos de origen volcanosedimentario; a techo se encuentran interrumpidas por un importante cabalgamiento. Los datos conocidos en la actualidad no permiten por el momento establecer correlaciones seguras con otras formaciones carbonatadas del centro de la Península ni precisar su edad.
In Santa Maria de la Alameda limestone laminar, stromatolitic type structures of organic origin have been found, wich define a marine sedimentary environment of shallow waters. The limestones containing these structures are located in a metasedimentary succession placed over a massive augengneiss complex of volcanic-sedimentary origin. An importand thrust cut them at the top. At the moment, it is imposible to establish reliable correlations with other calcareous formations of the central part of the Iberian Peninsule and to determine their age with precision.
Collections