Publication:
Alegoría y parodia: los argumentos empleados en dos modalidades con las que se tematiza el motivo del rechazo a la ostentación de dinero en el rap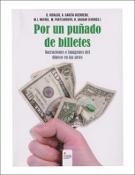 Authors
Advisors (or tutors)
Abstract
En este artículo se examinan los argumentos que se emplean en dos tematizaciones del motivo del rechazo a la ostentación de dinero en el rap. Una de ellas se corresponde con la modalidad literaria de la parodia y la otra con el modo simbólico de la alegoría cuando atraviesa el género de la fábula moral. En el primer caso, sobre todo se estudia la burla del uso de una figura retórica, la hipérbole, y en el segundo se analizan los rasgos de los actantes y las acciones que desarrollan. Así, se pone de manifiesto la intención persuasiva de dos obras estéticas de un género que combina la poesía oral y la música y que tiene fuertes raíces en la cultura africana.
In this article I examine the arguments used in two thematizations of the motive of criticizing the boasts about money in rap. One embraces the literary mode of parody and the other adopts the mode of allegory when it invades the genre of the moral fable. In the first case I especially examine the mocking at a rhetorical figure, the hyperbole, and in the second, the character's features and the actions in which they are involved. In conclusion, the persuasive intention of these two aesthetic pieces of a genre that combines oral poetry and music and that has heavy roots in the African culture becomes reasonably clear.
Citation
ALBALADEJO, Tomás (1989): Retórica. Madrid: Síntesis. BRADLEY, Adam (2009): Book of rhymes: The poetics of Hip Hop. Nueva York: Basic Civitas Books. BROC, David (2002): "Equipo en expansión. La nueva escuela del hip hop (1989-2002)", en Loops: una historia de la música electrónica, 380-406, Barcelona: Mondadori. CAMPBELL, Kermit E. (2005): Gettin' our Groove on: Rhetoric, language and literacy for the hip hop generation. Detroit: Wayne State University Press. CARNEY SMITH, Jessie, ed. (2011): Encyclopedia of African American Popular Culture. Santa Bárbara: ABC-CLIO. CATTANI, Adelino (2003): Los usos de la retórica. Madrid: Alianza editorial. CHOJIN, El y REYES, Francisco (2010): Rap: 25 años de rimas. Barcelona: Viceversa. CORTÉS TOVAR, Rosario (1986): Teoría de la sátira: análisis de "Apocolocyntosis" de Seneca. Cáceres: Universidad de Extremadura. FLETCHER, Angus (1964): Allegory: The Theory of a Symbolyc mode. Comell University Press. Traducción española en Madrid: Akal, 2002. FORGAS BERDET, Esther (1992): "Un esbozo de tipologización: la fábula", en Contextos, 10, 19-20, 187-200. ¡\ GARRIDO DOMÍNGUEZ, Antonio (1994): El texto narrati vo. Madrid: Síntesis. J GUILLÉN, Claudio (2005): Entre lo uno y lo diverso: Introducción a la literatura comparada (Ayer y hoy). Barcelona: Tusquets. HERNÁNDEZ GUERRERO, José Antonio (1998): "De la actio de Quintiliano a la imagen pública", en Quintiliano: historia y actualidad de la retórica, 87-100. Logroño: Gobierno de La Rioja. HERNÁNDEZ GUERRERO, José Antonio; GARCÍA TEJERO, María del Carmen (2004): El arte de hablar. Manual de retórica práctica y oratoria moderna. Barcelona: Ariel. IVANOV MOLLOV, Peter (2006): "Problemas teóricos en tomo a la parodia. El apogeo de la parodia en la poesía española de la época barroca" [en línea], en Revista electrónica de estudios filológicos, 11, 1-23. En: http://www.tonosdigital.es/ojs/indexo php/tonos/ article/view Article/29 [Consulta: 31/10/2013]. ISSN 1577-6921. KRIMS, Adam (2000): Rap Music and the Poetics o[ Identity. Cambridge: Cambridge University Press. KOPANO, Baruti N (2002): "Rap music as an extension of the Black rhetorical tradition: Keepin' it real", en Western Journal o[Black Studies, 26,4,204-214. KUBRIN, Charles E. (2005): "Gangstas, Thugs and Hustlas, identity and the code of the.street in Rap music", en Social Problems, 52, \3, 360-378. LAUSBERG, Heinrich (1991): Manual de retórica literaria. Fundamentos para una ciencia de la literatura, 2. Madrid: Gredos, 4a ed. LENA, Jennifer (2006): "Social context and musical content ofrap music, 1979-1995", en Social Forces, 85, 1,479-495. MARCHESE, Angelo y FORRADELLAS, Joaquín (2006): Diccionario de retórica, crítica y terminología literaria. Barcelona: Ariel, ga ed. MARTÍNEZ, Isabelle Marc (2007): "La estética del rap francés" '[en línea], en Enlaces: revista del CES Felipe 11, 7, 22-44. En: http://www.cesfelipesegundo.com/revista/articulos2007b/Marc%20Mart%EDnez.pdf [Consulta: 31/10/2013]. ISSNe1695-8543. MORTARA GARAVELLI, Bice (2000) Manual de retórica. Madrid: Cátedra. NAUPERT, Cristina (2001): La tematología comparatista: entre teoría y práctica. La novela de adulterio en la segunda mitad del siglo XIX Madrid: ARCO Libros. PERELMAN, Ch., OLBRECHTS-TYTECA (2006): Tratado de la argumentación: la nueva retórica. Madrid: Gredos, 3a ed. PERRY, Imany (2004): Prophets of the hood: politics and poetics in Hip Hop. Durham: Duke University Press. , PLANTIN, Christian (2011): La argumentación. Barcelona: Ariel Practicum, 9a ed. POLLARD, Arthur (1987): Satire. New York: Methuen. PUEO, Juan Carlos (2002): Los reflejos en juego: una teoría sobre la parodia. Valencia: Tirant lo Blanch. PUJANTE, David (1999): El hijo de la persuasión. Quintiliano y el Estatuto oratorio. Logroño: Instituto de Estudios Riojanos, 2a ed. (2003): Manual de retórica. Madrid: Castalia. PUJANTE CASCALES, Basilio (2009): "La retórica del rap: análisis de las figuras retóricas en las letras de Violadores del verso" [ en línea], en Revista electrónica de estudios filológicos, 17. En: http://www.um.es/tonosdigital/znum 1 7 / secciones/ estudios-15.htm [Consulta: 29/10/2013]. ISSN 1577-6921. RELATS, Dani (2002): "Miedo a un planeta negro". Loops: una historia de la música electrónica, 165-197. Barcelona: Mondadori. REYES, Francisco. 2007. "Hip-Hop, graffiti, break, rap, jóvenes y cultura urbana" [en línea], en Revista de estudios de juventud, 78, 124-140. En: http://www.injuve.es/sites/default/files/20 12/ 44/publicaciones/revista-78-capitulo-8. pdf [Consulta: 30/10/2013]. ISSN-e 0211-4364. ZUMTHOR, Paul (1991): Introducción a la poesía oral. Madrid: Taurus.-
Collections