Publication:
Opciones terapéuticas en las dehiscencias de prótesis valvulares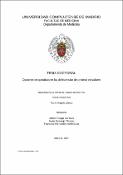 Files
Authors
Advisors (or tutors)
Editors
Publisher
Universidad Complutense de Madrid
Abstract
La aparición de dehiscencias paravalvulares protésicas (DPV) es una complicación frecuente tras el implante de una prótesis valvular. Son más frecuentes en prótesis en posición mitral y en prótesis mecánicas. Aunque la mayoría son pequeñas y asintomáticas, hasta en un 5% de pacientes son clínicamente relevantes. La clínica fundamental es la insuficiencia cardiaca y la anemia hemolítica. Las dehiscencias se producen como consecuencia de un fallo en la sutura quirúrgica, de modo que se produce un defecto entre el tejido protésico y el anillo valvular nativo. Recientemente se han descrito también tras el implante de prótesis aórtica transcatéter, con incidencias que pueden llegar hasta el 40-70% si tenemos en cuenta cualquier grado de regurgitación. Los principales factores predisponentes son la calcificación de los tejidos, la endocarditis, determinados aspectos de la técnica quirúrgica, haber tenido DPV previamente y el número de reintervenciones previas. La presencia de un soplo en un paciente que desarrolla síntomas tras el implante valvular nos obliga a realizar un ecocardiograma para valorar la función protésica. El ecocardiograma transesofágico establece el diagnóstico. En los últimos años con el desarrollo del ecocardiograma en tres dimensiones podemos realizar una valoración más exacta de la localización, tamaño y forma de la fuga, lo que será muy útil a la hora de planificar el tratamiento. El tratamiento médico inicial consiste en el tratamiento habitual de la insuficiencia cardiaca con diuréticos y vasodilatadores, así como el tratamiento de la anemia con reposición de hierro, ácido fólico, vitamina B12 y transfusiones en caso necesario...
A paravalvular leak (PVL) is a common complication after valve replacement. PVLs are more common in the mitral position and also in mechanical prostheses. Although most PVLs are aymptomatic and have a benign clinical course, around 5% of patients with PVL can lead to serious clinical consequences such as congestive heart failure, haemolytic anaemia or both. Paravalvular leaks are the result of an incomplete seal between the sewing ring and annulus. It has been recently observed that up to 40-70% of patients after transcatheter valve implantation presents some degree of paravalvular regurgitation. Several factors are known to increase the risk of PVL such as: severe annular calcification, infection, number of previous thoracotomies, a previous PVL and certain issues related to the suturing technique. On physical examination, a regurgitation murmur may be present and a echocardiography should be done to rule out the presence of prosthetic dysfunction. Imaging techniques have an important role in diagnosis, procedural guidance and evaluation of procedural results. The definite diagnosis is made by transesophageal echocardiography (TEE). The use of three dimensional TEE can further characterize the leak location, size, shape and severity. Medical treatment with diuretics and afterload reduction are useful for heart failure, and iron and folate supplements or blood transfusion if needed can be used in patients with anaemia. Until recently, the standard and the only available treatment was open heart surgery, despite high mortality associated with re-operation. Over the past few years, percutaneous treatment for PVL has been developed using different techniques with good results...
Description
Tesis inédita de la Universidad Complutense de Madrid, Facultad de Medicina, Departamento de Medicina, leída el 09-02-2016
Collections