Publication:
Validación del péptido intestinal vasoactivo (VIP) como biomarcador pronóstico en enfermedades reumáticas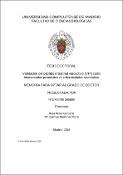 Files
Authors
Advisors (or tutors)
Editors
Publisher
Universidad Complutense de Madrid
Abstract
La Artritis Reumatoide (AR) y la Espondiloartritis (EspA) son enfermedades reumáticasinflamatorias y crónicas con un importante componente autoinmune, cuya progresiónconduce a la destrucción de las estructuras articulares y con ello a una severa incapacidadfuncional y grave deterioro de la calidad de vida de los pacientes [1, 2].En ambas patologías, la gravedad aumenta debido al largo periodo de tiempo transcurridodesde el comienzo de la enfermedad hasta su diagnóstico e inicio del tratamiento. Sinembargo, una actuación terapéutica precoz durante la ventana de oportunidad [3-7]basada en estrategias terapéuticas personalizadas es capaz de ralentizar o inclusomodificar el curso natural de la enfermedad [8, 9].Los biomarcadores validados hasta la fecha, en AR (fundamentalmente factor reumatoidey anticuerpos contra proteínas citrulinadas, ACPA) y en EspA (HLA-B27+ y proteína Creactiva), resultan insuficientes para clasificar a los pacientes con previsión de peor cursoevolutivo y que, por tanto, se beneficiarían de un tratamiento temprano más agresivo [1, 10-13]. Así, existen aún importantes desafíos en la búsqueda de biomarcadores pronóstico.El Péptido Intestinal Vasoactivo (VIP) es ampliamente reconocido por sus propiedadesantiinflamatorias e inmunomoduladoras [14], muchas de ellas dentro del contexto de laspropias enfermedades reumáticas [15-18]. VIP ejerce sus funciones a través de 3 receptoresacoplados a proteína G (VPAC1, VPAC2, PAC1), presentes en células inmunocompetentes[19]. Se ha descrito que los perfiles de expresión del eje VIP/Receptores se encuentranalterados en diversas enfermedades autoinmunes tales como la esclerosis múltiple, el Crohno el Sjögren [20-22].Combinando su relevancia en el contexto de las enfermedades reumáticas con sudesregulación en otras patologías autoinmunes, nos preguntamos si el eje VIP/Receptorespodría servir como biomarcador pronóstico en las dos enfermedades estudiadas...
Rheumatoid arthritis (RA) and Spondyloarthritis (SpA) are inflammatory and chronicrheumatic diseases with a significant autoimmune component. Its progression leads to thedestruction of joint structures and, consequently, to severe functional impairment andserious worsening of patient's quality of life [1, 2].In both diseases, severity increases due to the long period of time from onset to diagnosisand treatment establishment. Nevertheless, an early therapeutic intervention during thewindow of opportunity [3-7] based on customized therapeutic strategies is able to slowor even modify the natural course of the disease [8, 9].To date, validated biomarkers in RA (mainly rheumatoid factor and anti-citrullinatedproteins antibodies, ACPA) and in SpA (essentially HLA-B27+ and C-reactive protein), areinsufficient to classify patients who are expected to undergo worse clinical course of thedisease and, consequently, who would benefit from more aggressive early treatment [1, 10-13]. Thus, there are still major challenges in the search for prognostic biomarkers.The antiinflammatory and immunomodulatory properties of the Vasoactive IntestinalPeptide (VIP) are broadly documented [14] being many of them described within thecontext of rheumatic diseases [15-18]. VIP exerts its biological functions through three Gprotein-coupled receptors (VPAC1, VPAC2, PAC1), found in immunocompetent cells [19].The expression profile of the VIP/Receptors axis have been reported to be altered in severalautoimmune diseases such as multiple sclerosis, Crohn's disease and Sjögren's syndrome[20-22].Considering its relevance in the context of rheumatic diseases and its deregulation in otherautoimmune pathologies, we examined if the VIP/Receptors axis could serve as aprognostic biomarker in the two studied diseases...
Description
Tesis de la Universidad Complutense de Madrid, Facultad de Ciencias Biológicas, leída el 02-02-2018
Collections