Publication:
Arte y Memoria Histórica: monumentos financiados por el Ministerio de Presidencia del Gobierno de España durante el periodo 2006-2011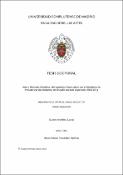 Files
Authors
Advisors (or tutors)
Editors
Publisher
Universidad Complutense de Madrid
Abstract
La tesis doctoral Arte y Memoria Histórica. Monumentos financiados por el Ministerio de Presidencia del Gobierno de España durante el periodo 2006-2011, analiza los memoriales en recuerdo de las víctimas de la guerra civil y la dictadura franquista construidos en un período determinado, el de la vigencia efectiva de las subvenciones ligadas a la Ley 52/2007, de 26 de diciembre, por la que se reconocen y amplían derechos y se establecen medidas a favor de quienes padecieron persecución o violencia durante la guerra civil y la dictadura. Aborda la producción artística en una etapa en la que la coincidencia de determinadas políticas públicas y el debate originado en torno a ellas, forjaron un contexto favorable a la creación artística relacionada y a la activación de las obras como lugares de memoria. En este sentido, la investigación parte de una hipótesis: las piezas no son elementos conmemorativos estáticos sino hitos dinámicos en torno a los que se origina reflexión y debate, capaces de establecer vínculos entre momentos históricos diferenciados y de provocar procesos de identificación y de rechazo...
The dissertation Art and Historical Memory. Monuments funded by the Ministry of the Presidency of the Government of Spain during the period 2006-2011, examines the memorials to the victims of the Spanish Civil War and Franco's dictatorship that were built during a specific period, and the validity of the subsidies linked to Law 52/2007, which recognised and extended rights and measures in favour of those who suffered persecution or violence during the civil war and Franco's dictatorship. It deals with artistic production during a period in which certain public policies and the debate that arose around them generated a favourable context for artistic creation and its inclusion in places of memory. The present study's hypothesis is that the related pieces are not static commemorative objects but dynamic landmarks for reflection and debate and capable of linking different historical moments, as well as provoking identification and rejection...
Description
Tesis inédita de la Universidad Complutense de Madrid, Facultad de Bellas Artes, leída el 23/09/2022
Collections