Publication:
Edema macular cistoide secundario al uso de retractores de iris en la cirugía de la catarata con dilatación pupilar insuficiente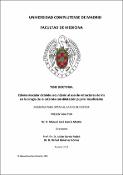 Files
Authors
Advisors (or tutors)
Editors
Publisher
Universidad Complutense de Madrid
Abstract
El tamaño de la pupila es de vital importancia en la cirugía de la catarata, porque una dilatación pupilar insuficiente (< 5 mm) se asocia a numerosas complicaciones al dificultar todas las etapas de la facoemulsificación.Es conocido que los pacientes diabéticos y con síndrome de pseudoexfoliación suelen tener problemas de dilatación, pero el fenómeno se ha multiplicado tras la introducción de la tamsulosina para el tratamiento de la hipertrofia de próstata, pues se observó que estos pacientes, al operarse de cataratas, presentaban una midriasis insuficiente y una pérdida de tono del iris, lo que fue bautizado como "intraoperative floppy iris syndrome" o síndrome IFIS.Para hacer frente a una dilatación pupilar insuficiente una de las técnicas más populares es la utilización de retractores de iris. El inconveniente es que, al traccionar del iris, se pueden provocar micro-rupturas del esfínter pupilar, lo que sumado a la inflamación habitual de la cirugía, provoca una gran liberación de numerosos factores pro-inflamatorios, que difunden al acuoso y al vítreo tras la manipulación y el trauma quirúrgico del iris...
Pupil size is of crucial importance in cataract surgery, because insufficient pupillary dilation (<5 mm) is associated with numerous complications by making all stages of phacoemulsification difficult.It is known that diabetic patients and patients with pseudoexfoliation syndrome usually have dilation problems, but the phenomenon has multiplied after the introduction of tamsulosin for the treatment of prostate hypertrophy, since it was observed that these patients, when undergoing cataract surgery, presented insufficient mydriasis and a loss of iris tone, which was named as "intraoperative floppy iris syndrome" or IFIS syndrome.To deal with insufficient pupillary dilation, one of the most popular techniques is the use of iris retractors. The drawback is that, when pulling the iris, micro-ruptures of the pupillary sphincter can be caused, which added to the usual inflammation of surgery, produces a great release of numerous pro-inflammatory factors, which diffuse into the aqueous and vitreous after manipulation and surgical trauma of the iris...
Description
Tesis inédita de la Universidad Complutense de Madrid, Facultad de Medicina, leída el 24-06-2022
Collections