Publication:
Universal compressive tomography in the time-frequency domain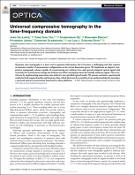 Advisors (or tutors)
Editors
Abstract
Quantum state tomography is a basic tool in quantum information, but it becomes a challenging task that requires an immense number of measurement configurations as the system dimension grows. We implement an adaptive compressive tomography scheme capable of reconstructing any arbitrary low-rank spectral-temporal optical signal with extremely few measurement settings and without any ad hoc assumption about the initially unknown signal. This is carried out by implementing projections onto arbitrary user-specified optical modes. We present conclusive experimental results for both temporal modes and frequency bins, which showcase the versatility of our method and thereby introduce a universal optical reconstruction framework to these platforms.
Description
© 2021 Optical Society of America. Horizon 2020 Framework Programme (ApresSF, Stormytune); Deutsche Forschungsgemeinschaft (SFB TRR 142); National Research Foundation of Korea (2019M3E4A1080074, 2019R1A6A1A10073437, 2020K2A9A1A0610294, 2020R1A2C1008609); Institute of Information & Communications Technology Planning & Evaluation (2021-0-01059, 2021-2020-0-01606); Ministerio de Ciencia e Innovación (PGC2018-099183-B-I00).
Collections