Publication:
Ideal 3D asymmetric concentrator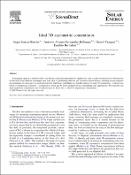 Advisors (or tutors)
Editors
Publisher
Pergamon-Elsevier Science, Ltd.
Abstract
Nonimaging optics is a field devoted to the design of optical components for applications such as solar concentration or illumination. In this field, many different techniques have been used for producing reflective and refractive optical devices, including reverse engineering techniques. In this paper we apply photometric field theory and elliptic ray bundles method to study 3D asymmetric – without rotational or translational symmetry – concentrators, which can be useful components for nontracking solar applications. We study the one-sheet hyperbolic concentrator and we demonstrate its behaviour as ideal 3D asymmetric concentrator.
Description
© 2008 Elsevier Ltd. This research was partially supported by the Comunidad de Madrid project ARCHISENS-CM Programme Ref: S-505/ENE0355. The authors thank to A. González-Cano for his suggestions to this work.
Citation
1. Benítez, P., 1999. Elliptic ray bundles in three-dimensional geometry for nonimaging optics: a new approach. J. Opt. Soc. Am. A 16 (9), 2245–2252. 2. Fock, V., 1924. Zur Berechnung der Beleuchtungssta¨rke. Z. Phys. 28, 102–118. 3. García-Botella, A., Fernández-Balbuena, A.A., Bernabéu, E., 2006. 4. Elliptical concentrators. Appl. Opt. 45 (29), 7622–7627. 5. Gutiérrez, M., Miñano, J.C., Vega, C., Benítez, P., 1996. Application of Lorentz geometry to nonimaging optics: new three-dimensional ideal concentrators. J. Opt. Soc. Am. A 13 (3), 532–540. 6. Mallick, T.K., Eames, P.C., Hyde, T.J., Norton, B., 2004. The design and experimental characterisation of an asymmetric compound parabolic photovoltaic concentrator for building fac ade integration in the UK. Sol. Energy 77, 319–327. 7. Moon, P., Spencer, D.E., 1981. Photic Field. Massachusetts Institute of Technology Press, Massachusetts. 8. O'Gallagher, J., Winston, R., Welford, W.T., 1987. Axially symmetric nonimaging flux concentrators with the maximum theoretical concentration ratio. J. Opt. Soc. Am. A 4 (1), 66–68. 9. Winston, R., Welford, W.T., 1979. Geometrical vector flux and some new nonimaging concentrators. J. Opt. Soc. Am. 69 (4), 532–536. 10. Winston, R., Miñano, J.C., Benitez, P., with contributions by Shatz, N., Bortz, J.C., 2005. Nonimaging Optics. Elsevier Academic Press, New York.
Collections