Publication:
Héroes indoeuropeos: Arjuna / Indoeuropean Heroes: Arjuna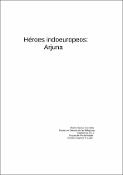 Authors
Advisors (or tutors)
Editors
Abstract
El presente trabajo se ocupa de examinar desde el punto de vista de las mitologías comparadas el perfil de uno de los protagonistas del Mahābhārata; el Pāndava Arjuna. Este análisis parte de la pregunta de por qué Arjuna, siendo un guerrero y respondiendo a un perfil de tipo heroico, subsume algunos rasgos propios del tipo mago, o demuestra un acercamiento a lo divino y/o sagrado que extraña en un personaje con una clara vocación militar. El enfoque elegido para plantear esta cuestión ha sido el método comparado de G. Dumézil para las religiones indoeuropeas, lo que nos permite plantear el contenido de este trabajo del siguiente modo: examinar los rasgos de la primera función que presenta un personaje paradigmático de la segunda función. La aplicación de esta metodología ha seguido unos principios críticos y, lejos de intentar poner de manifiesto "estructuras triples", trata en todo momento de adherirse rigurosamente al texto en busca de material comparativo claro, que nos permita dilucidar estas cuestiones. Para ello este examen ha utilizado las siguientes herramientas: la lectura directa de los cinco primeros libros del Mahābhārata (en su versión inglesa de Van Buitenen), y la constante referencia a sus contenidos que priman por encima de cualquier hipótesis o teoría previa. Toda una serie de textos mitológicos del mundo védico así como otros ámbitos indoeuropeos, en busca de referentes claros con los que comparar los aspectos más oscuros de Arjuna y tratar así de facilitar una explicación a la pregunta que plantea el trabajo. Y por último, las diferentes obras de G. Dumézil, así como varias revisiones de las mismas, tanto de sus continuadores como de sus críticos, con el fin de proveer al análisis de una metodología crítica, rigurosa, y lejos de asunciones fáciles para abordar los problemas que plantea el método comparado. / This essay tries to examine, from the comparative mythology point of view, the profile of one of the protagonists of the Mahābhārata: the Pāndava Arjuna. This analysis sets out from the question of why Arjuna, being a warrior and responding to a heroic profile, subsumes some characteristics more suitable for the wizard kind, or why he demonstrates an approach to the divine and/or the sacred, which is strange in a character with a clearly military vocation. The approach selected to formulate this question is G. Dumezil's comparative method for Indo-European religions, which allows us to set out the content of this essay in the following way: examine the characteristics of the first function which are present in a paradigmatic character of the second function. The application of this methodology has followed a critical premise, and does not try to show "triple structures", but in every moment tries to look closely at the text in search of clear comparative material, which allows us to clarify our questions. In order to do that, this examination has used the following tools: the direct reading of the Mahābhārata's first five books (in Van Buitenen's English version) and the constant reference to their contents, which are more important than any hypothesis or previous theory. There were also used many mythology texts from the Vedic world and other Indo-European ambits, to search comparative material that could explain the less clear aspects of Arjuna and give answers to the questions of this paper. Finally, we used the books of G. Dumézil, as well as their many revisions from his successors and critics, in order to provide the analysis with a critical and rigorous methodology far from easy assumptions, to deal with the problems of the comparative method.