Publication:
Diseño de ejemplos docentes para el aprendizaje eficaz de metodologías orientadas a agentes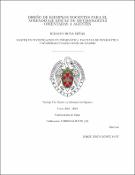 Authors
Advisors (or tutors)
Editors
Abstract
Los sistemas basados en agentes resultan interesantes para la construcción de sistemas distribuidos. Sin embargo, estos sistemas son difíciles de construir y por eso se concibe la Ingeniería del Software Orientada a Agentes (AOSE). De cualquier forma, las metodologías existentes para el desarrollo de los sistemas basados en agentes no contemplan las dificultades de su aprendizaje, lo cual es un impedimento para nuevos desarrolladores. Aprovechando los paralelismos existentes entre AOSE y la ingeniería del software, se propone investigar cómo se plantea la docencia en esta disciplina, con el fin de trasladarlos al dominio de AOSE. Esta investigación encuentra que los ejemplos educativos son un recurso básico para mejorar la educación en la ingeniería del software. Sin embargo, no se ha encontrado ningún trabajo que defina cómo deben de ser estos ejemplos. Durante este trabajo, se identican algunas de las características deseables para que un ejemplo educativo sea efectivo. Posteriormente se proponen unos ejemplos para su evaluación según las características identificadas. [ABSTRACT] Agent-based systems are interesting for building distributed systems. Nevertheless, this systems are hard to build, and the methods available from Software Engineering are not suited nor eective. Instead, Agent Oriented Software Engineering (AOSE) is conceived. Anyway, existent methodologies for building agent-based systems do not address the training problem, thus they are hard to learn. Taking advantage from existing parallelism between AOSE and Software Engineering, its proposed to study existing solutions that facilitate Software Engineering adoption with the goal of transferring them to AOSE methodologies. This research finds out that tailored examples are useful for improving software engineering education. Nevertheless, no work has been found that deals with the features those examples should possess. During this research, some features are identified that may make an example more effective. Later some examples are proposed that evaluate effectiveness of the identified features.
Description
Máster en Investigación en Informática, Facultad de Informática, Departamento de Ingeniería del Software e Inteligencia Artificial, curso 2012-2013.