Publication:
El glaciarismo pleistoceno del Sistema Central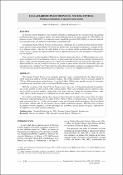 Advisors (or tutors)
Editors
Publisher
Asociación Española para la Enseñanza de las Ciencias de la Tierra
Abstract
El Sistema Central Español es una montaña intraplaca, originada por la reactivación de una antigua penillanura durante la orogenia Alpina. Sus cimas alomadas tienen una altura media de 1700-1800 m, en algunos sectores 1900-2000 m y en macizos locales pueden llegar a los 2300-2500 m; se trata por tanto de una montaña media, de ambiente mediterráneo continentalizado. Exceptuando Gata-Peña de Francia, en los macizos culminante de los demás sectores aparecen morfologías glaciares bien desarrolladas. Se trató de un glaciarismo de montaña con monteras y campos de hielo en algunas cimas, y glaciares de valle, ladera y circo; en etapas tardías se desarrollaron algunos glaciares rocosos. Durante la etapa de máximo avance, algunos glaciares de valle alcanzaron varios kilómetros de longitud. Estos procesos se han asignado al Pleistoceno Superior (fase equivalente a la Würm alpina) por correlación y algunos criterios de datación relativa, y se han reconocido: un periodo de máxima extensión de los hielos, al que siguió un pequeño retroceso y la etapa mayor estabilización con el desarrollo de grandes vallums morrénicos; tras un periodo de retroceso se genera un nuevo avance de menor desarrollo y que está marcado por los complejos morrénicos internos. En ambas subetapas o estadios se produjeron varias pulsaciones que han quedado registradas por las diferentes crestas de los complejos morrénicos.
The Spanish Central System is an intraplate mountain range, originated during the Alpine Orogeny which caused an uplift of a former planation surface. The rolling summits reach an average altitude of 1700 to 1800 meters above sea level (m.a.s.l.), and up 2300 to 2500 at some specific massifs. It is therefore a medium height mountain, with a continental Mediterranean climate. With the exception of the Gata-Peña de Francia areas, there are well-developed glaciated morphologies on the summits of other sectors of the Central System. These were mountain glaciers, small ice caps, and ice fields on several summits, valley slope, and cirque glaciers. During the maximum advance, some valley glaciers had a length of several kilometres. In late stages, rock glaciers were formed. Correlation and relative dating, these processes have been interpreted to have occurred in the Upper Pleistocene (equivalent phase to the Alpine Würm). There are three recognized stages: 1) a period of maximum extension of the ice; 2) followed by a small retreat and the main stabilization phase, which developed big moraine vallums, and 3) a new less developed, smaller and shorter advance. This third stage is shown by internal moraine complexes. In both sub-stages one and three, several pulses took place, indicated by the different crests of the moraine complexes.
Collections