Publication:
Los militares de Estado Mayor en la Guerra Civil española (1936-1939)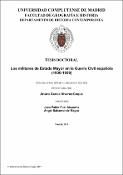 Files
Authors
Advisors (or tutors)
Fusi Aizpurúa, Juan Pablo
Editors
Publisher
Universidad Complutense de Madrid
Abstract
En el ejército español de 1936 los militares de Estado Mayor (EM) formaban un grupo de élite de cerca de 500 jefes y oficiales. Esta investigación tiene como objetivo estudiar el papel de este sector del ejército en la guerra civil de 1936-1939. Por su conocimiento del arte militar (organización, estrategia y táctica, enseñanza militar, técnicas como cartografía y topografía, etc), los militares de EM tuvieron destacada participación en el desarrollo tanto del Ejército Popular (EP) como del Ejército Nacional (EN), así como en las operaciones militares. Abordamos cuestiones como los factores que influenciaron el alineamiento con los bandos en liza, la actividad conspirativa del grupo en la preparación del levantamiento contra el Gobierno del Frente Popular, el papel de los estados mayores en la sublevación de julio de 1936, la proporción en que se dividió la oficialidad entre los dos bandos. A partir de expedientes personales y hojas de servicio, así como de la ingente documentación de las causas judiciales abiertas contra aquellos que sirvieron en el bando republicano (AGHD y AIMNOR1 entre otros archivos), hemos constituido una base de datos que integra la totalidad de los miembros del grupo de EM. La base de datos permite identificar de manera bastante precisa los depurados por los sublevados y los desafectos en zona republicana, así como los oficiales actuantes tanto en el Ejército Popular como en el Ejército Nacional. Asimismo se cuantifican los oficiales pasados a la zona sublevada, pudiendo comparar así los efectivos totales en la oficialidad de EM en cada bando en dos momentos de la guerra: hacia final del verano de 1936 y hacia finales de noviembre de 1937, ya en fechas cercanas a hechos bélicos decisivos para el desenlace de la contienda. Para ampliar nuestra visión sobre los militares en el periodo considerado desde diversas perspectivas, se han desarrollado estudios de caso, por ejemplo sobre el general Manuel Goded en la conspiración y la sublevación, o sobre los hechos en la Escuela Superior de Guerra entre el 18 y el 21 de julio de 1936. Asimismo, contactos con descendientes de militares de EM nos han permitido entrar en alguna medida en vivencias personales y enriquecer con material fotográfico y testimonios orales algunas biografías breves...
The Staff military were an elite group of nearly 500 officers in the Spanish army in 1936. Because of their highly specialised knowlege on organisation, strategy and tactics, and other techiques, or on military instruction, the staff military had a key role during the war in the development of both the republican and rebel armies as well as on the planning and control of military operations. We consider aspects such as the factors that influenced military on their support to each of the two sides in conflict, their involvement in the conspiracy and rebellion against the Frente Popular Goverment, the proportion of officers which rallied each side, the role of the division (military region) staffs in the uprising on 18th of july 1936. From data collected primarily from personal and service records and from the wealth of documents in court martial proceedings against those military who served in the republican army (the AGHD and AIMNOR archives2 among others) we have set up a database including the totality of the members of this group. We use the data base to perform a fairly precise assessment of the numbers of officers reluctant to serve the Republic and of those who served in each of the republican and rebel armies (in each case we identy each individual officer). Additionally, we assess the numbers of those who defected from the republican army to the rebel side, and of those who were hidden or refugees and managed to join the rebels. Thereby we are able to measure the growing imbalance of staff resources that was key to the military superiority of the francoist side. To widen our visión on the military at the outset of the war, we have included several case studies. For example, on general Manuel Goded and the conspiracy and uprising, or on the events at the Escuela Superior de Guerra on 18-21 of July 1936. Moreover we have contacted descendants of military who were staff officers during the civil war, to help develop short biographies, supported by photograps and oral accounts...
Description
Tesis inédita de la Universidad Complutense de Madrid, Facultad de Geografía e Historia, Departamento de Historia Contemporánea, leída el 11/07/2017
Collections