Publication:
Algunas tendencias jurídicas de la globalización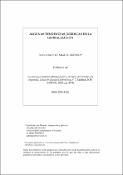 Authors
Advisors (or tutors)
Editors
Abstract
La globalización se halla asociada a nuevas tendencias jurídicas en la ordenación de las actividades de sus actores, muy especialmente las empresas transnacionales, pero también el resto de las empresas y los particulares, así como de las relaciones de esos actores con los Estados. Objeto de especial atención son: el progresivo desarrollo de nuevos ámbitos de elaboración de normas, la creciente competencia de localización entre ordenamientos y el papel que desempeñan las organizadas privadas internacionales en la ordenación de las relaciones características de la globalización. New legal trends concerning the regulation of international private relations can be identified in the context of globalization. The article focuses on law reform from a global perspective, the progressive development and limits of new sources of rules, the increasing competition between states and the role played by private organizations.
Collections