Publication:
La Tumba 1 de la necrópolis del oppidum Cerro de las Cabezas (Valdepeñas, Ciudad Real): nuevo ejemplo del uso de sigillata aretina en rituales funerarios oretanos.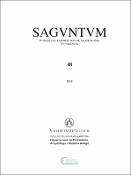 Advisors (or tutors)
Editors
Abstract
La correcta aplicación de un procedimiento de prevención de impactos y protección al patrimonio arqueológico, desarrollado con motivo de la implantación de una línea eléctrica de alta tensión, permitió en 2013 el hallazgo de una necrópolis junto al Cerro de las Cabezas (Valdepeñas, Ciudad Real). Hasta el momento se desconocía la localización del área funeraria de este gran oppidum. Las catorce tumbas documentadas durante esta breve intervención (catorce días de trabajo) corresponden a los enterramientos de cremaciones en urnas, con piezas de ajuar asociadas como fusayolas, fíbulas, armas y recipientes cerámicos. Se presenta el estudio ceramológico de la Tumba 1; la única de entre las excavadas que cuenta con ajuar de importación. En concreto la pieza importada es un plato de t.s. itálica con sello del taller de L. Titivs, fechado entre 15/40 d.C. Es, por tanto, un enterramiento de comienzos de nuestra era. El hallazgo permite verificar que en ese momento persisten en la Oretania los ritos funerarios indígenas ibéricos, que utilizan ocasionalmente cerámicas romanas de importación.
The proper application of a method of protection and preventing impacts to Archaeological Heritage, developed because of the installation of an electrical power line, has led to the discovery of the necropolis beside Cerro de las Cabezas (Valdepeñas, Ciudad Real). The location of the burial area of this great Iron Age oppidum was unknown until now. The fourteen graves documented during this brief intervention correspond to the cremations buried in urns, with goods associated as fusayola, fibulae, weapons and pottery. In this work is presented the ceramologic study of Tomb 1. This is the only one between the graves excavated which has imported pieces. The imported object is a plate of italian terra sigillata, dated between 15/40 AD and sealed in the factory of L. Titivs. Therefore it is an early burial of our era. The finding verifies than in these years persist in Oretania indigenous Iberian funerary rites, which occasionally used import Roman pottery.
Collections