Publication:
La alienación en los personajes del teatro contemporáneo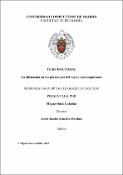 Files
Authors
Advisors (or tutors)
Editors
Publisher
Universidad Complutense de Madrid
Abstract
En el mundo de las Artes Escénicas, siempre hay una pregunta que impera sobre las demás. La cuestión a la que debe enfrentarse cualquiera que quiera entender la motivación o el pensamiento de un personaje es muy simple, pero a la vez de vital importancia. Esa incógnita no es otra que "por qué", una duda de las más humanas que existen. No se precisa ser un personaje de una novela u obra dramática para hacerse dicha pregunta. La respuesta a todas las acciones, opiniones, actos, palabras y sucesos que se desarrollan a lo largo de la historia está en el "por qué" y, como respuesta, se plantea el posible estado alienado del personaje. La alienación es una deshumanización del personaje que lo enajena y transforma en otro ser, dejando de ser él mismo apartándose del camino de lo que potencialmente podría haber sido o logrado. Mediante el estudio comparativo de diversas obras de varios periodos, autores y estilos, los personajes han demostrado estar alienados por diversos motivos, por sus deseos, objetivos y conflictos que estos experimentan. Las alienaciones ordinarias surgen de los conflictos y problemas de los personajes del teatro ordinario con situaciones y circunstancias verosímiles y realistas, similares a los de la vida del espectador, pero que no abarcan todos los estilos de teatro existente. De ahí la segmentación propuesta entre el teatro ordinario (creíble, real y plausible) y el teatro extraordinario (inverosímil, fantástico y absurdo) como los dos autores propuestos, Fernando Arrabal y Alejandro Jodorowsky. A raíz de este estudio, han surgido las alienaciones ordinarias (trece en el paradigma inicial) que mantienen un carácter más universal y reproducible y las alienaciones extraordinarias (once en el segundo paradigma) con una cualidad más única y personal dependiendo del personaje y obra...
In the world of the Performing Arts, there is always one question that prevails over the others. The question faced by anyone who wants to understand the motivation of a character is very simple, but at the same time vitally important. That question is none other than "why", one of the most humane doubts that exist. You don't have to be a character in a novel or play to ask yourself that question. The answer to all the actions, opinions, acts, words and events that take place throughout the story lies in the "why" and, as an answer, the possible alienated state of the character is raised.Alienation is a dehumanization of the character that transforms him into another being, ceasing to be himself, moving out of the way of what could potentially have been or achieved. Through the comparative study of various works from various periods, authors and styles, the characters have proved to be alienated for various reasons, by their desires, objectives and conflicts that they experience. Ordinary alienations come from the conflicts and problems of ordinary theater characters with credible and realistic situations and circumstances, similar to those of the spectator's life, but which do not encompass all existing theater styles. From there, the proposed segmentation between ordinary theater (credible, real and plausible) and extraordinary theater (unlikely, fantastic and absurd) as the two proposed authors, Fernando Arrabal and Alejandro Jodorowsky. As a result of this study, ordinary alienations have emerged (thirteen in the initial paradigm) that maintain a more universal and reproducible character, and extraordinary alienations (eleven in the second paradigm) with a more unique and personal quality depending on the character and play...
Description
Tesis inédita de la Universidad Complutense de Madrid, Facultad de Filología, leída el 26-04-2022
Collections