Publication:
La discapacidad en el cine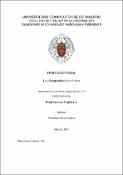 Files
Authors
Advisors (or tutors)
Editors
Publisher
Universidad Complutense de Madrid
Abstract
La discapacidad en el cine, es una tesis doctoral que analiza el tratamiento que el cine ofrece de la discapacidad. Se centra en el cine, importante e influyente medio de comunicación de masas, pues es un potente emisor de ideas y mensajes. Esta idea del cine nos parece particularmente interesante, ya que el individuo, mediante el proceso cognitivo de la percepción –ver películas–, crea conceptos que, más tarde, tendrá en cuenta en su relación con la sociedad. Hoy en día, el cine refleja, en la mayoría de las películas, nuestro entorno cotidiano. Una realidad en la que, por supuesto, está incluida la discapacidad. De ser un estigma que, en otros tiempos, hacia que las personas con discapacidad tuviesen que vivir en la soledad y el aislamiento, se ha pasado a hacer visible la situación de este importante colectivo, cuyas reivindicaciones en materia de igualdad e integración van siendo, día a día, aceptadas y asumidas procurando su normalización social. La primera parte del trabajo centra su atención en la discapacidad, la construcción social de la realidad y los estereotipos y prejuicios relacionados con las personas con discapacidad. Un primer apartado trata la discapacidad desde diferentes puntos de vista: tras la definición del término se hace mención a la Clasificación Internacional del Funcionamiento, la Discapacidad y la Salud (CIF), tipología estándar –asumida por todos los países pertenecientes la Organización Mundial de la salud– para determinar la discapacidad y grados de funcionalidad de cada una de ellas. En segundo lugar se ofrece una panorámica sobre la discapacidad en España. La situación actual del colectivo de personas con discapacidad en cifras; la creación –a partir de 1976 – de organismos oficiales dedicados en exclusiva a promover la prevención de deficiencias, la rehabilitación y la inserción social de las personas con discapacidad. De la misma manera, se hace un repaso histórico de la legislación española específica que la recoge –desde los primeros años del siglo XX con el Real Decreto de 22 de enero, del Patronato Nacional de Sordomudos, Ciegos y Anormales (1910) hasta nuestros días con el Real Decreto Legislativo 1/2013, de 29 de noviembre, por el que se aprueba el Texto Refundido de la Ley General de derechos de las personas con discapacidad y de su inclusión social (2013) – que supone un gran avance legislativo al unificar toda la normativa existente en la materia hasta el momento y garantiza que la discapacidad esté contemplada en todas las actuaciones políticas, asegurando su protección en todos los ámbitos, incluidos los aspectos psicológicos...
Disability in cinema, is a doctoral thesis that analyzes the way disabled people are portrayed on screen. It focuses on film, important and influential media, as it is a powerful disseminator of ideas and messages to the mass population. This conception of the film seems particularly interesting, since the individuals, through the cognitive process of perception –to see movies– create concepts, that later, are part of their everyday life. Nowaday, movies reflect in most movies our social environment. A reality in which, of course, is included disability. From being a stigma that in the past made people with disabilities having to live in solitude and isolation, the status of this important group is made visible, whose claims on equality and integration are becoming accepted and assumed, ensuring their social integration. The first part of the work focuses on disability, social construction of reality and stereotypes and prejudices regarding people with disabilities. This section deals with disability from different perspectives: after defining the concept, the text refers to the International Classification of Functioning, Disability and Health (ICF), standard type, assumed by all countries belonging to the World Health Organization, in order to determine disability as well as the degree of functionality of each one. Secondly an overview of disability in Spain is offered: the current situation of the group of persons with disabilities in figures; and the stablishment since 1976 of government agencies dedicated exclusively to encourage prevention of impairments, rehabilitation and social integration of persons with disabilities. Similarly, a historical review of the specific Spanish legislation that includes, from the early twentieth century with the Real Decreto de 22 de enero, del Patronato Nacional de Sordomudos, Ciegos y Anormales (1910) to nowadays with Real Decreto Legislativo 1/2013, de 29 de noviembre, por el que se aprueba el Texto Refundido de la Ley General de derechos de las personas con discapacidad y de su inclusión social (2013). This law has been a major legislative progress in unifying all the existing legislation in this area so far and ensures that disability is provided for all political actions, ensuring their protection in all areas, including psychological aspects. To conclude this section literature and the arts are connected disability, indicating a number of masterpieces –novels, paintings, sculptures and photographs– in the representation of persons with disabilities who have inspired and produce notable films. On the other hand, philosophy offers a view of disability from the knowledge and ethics. The historical association between the disabled person and 'monster' allows us to explore different schools of thought regarding the concept of human being and beauty and perfection. All this allows us to have a complete view of this social phenomenon...
Description
Tesis inédita de la Universidad Complutense de Madrid, Facultad de Ciencias de la Información, Departamento de Comunicación Audiovisual y Publicidad II, leída el 04-02-2016
Collections