Publication:
"Project Finance" and economic development. A case study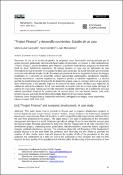 Advisors (or tutors)
Editors
Publisher
Facultad de Ciencias Económicas y Empresariales. Escuela de Estudios Cooperativos
Abstract
This work shows how is possible to finance and to organize development projects in heavily depressed areas using a "project finance" method. Project finance is the financing of a project based upon a non-recourse financial structure, in which project financial resources are paid back from the cash flow generated by the project. The paper shows a real case of application of this innovative management technique in a small Ethiopian agricultural village. It can be seen that the process goes far beyond simple financial calculation to fully enter into the management of all risks involved in the development project: underlying assets, participants, natural conditions, economic factors, regulatory changes, political interference, etcetera. The technique allows the self-financing of the development project because it is the asset itself that generates such financing and this allows to promote the creation of other similar assets that will improve the quality of life of the population In the case analyzed, the construction of a well can lead to the cultivation of four orchards that will not only improve the food quality of the population but will also allow the financing of the construction of new wells with their annexes orchards. This cycle ends once all the families of the village have their own orchards.
El uso de la técnica de gestión de proyectos, cuya financiación está garantizada por el propio proyecto gestionado, denominada financiación de proyectos sin recurso o, más habitualmente "Project Finance", puede emplearse para financiar y gestionar determinados proyectos de desarrollo local en áreas fuertemente deprimidas. El trabajo muestra un caso real de aplicación de esta innovadora técnica de gestión en una pequeña aldea agrícola etíope. Se puede observar que el proceso va mucho más allá del simple cálculo financiero para entrar de lleno en la gestión de todos los riesgos implicados en el proyecto de desarrollo: activos subyacentes, participantes, condiciones naturales, factores económicos, cambios regulatorios, injerencia política y cambios legislativos. La técnica permite la autofinanciación del proyecto de desarrollo gracias a que es el propio activo el que genera dicha financiación y ello permite impulsar la creación de otros activos similares que mejorarán la calidad de vida de la población. En el caso analizado, la construcción de un pozo puede dar lugar al cultivo de unas cuatro huertas que no sólo mejorarán la calidad alimenticia de la población sino que además permitirán financiar la construcción de nuevos pozos con sus huertas anexas. Este ciclo termina una vez que todas las familias del poblado disponen de sus propias huertas.
Citation
Cabaleiro Casal, M.J. y Fernández-Feijoo Souto, B. (2007) Sustentabilidad y Cooperativismo: Una propuesta metodológica basada en un proyecto real. REVESCO. Revista de Estudios Cooperativos, Segundo Cuatrimestre, Nº 92, pp. 72-106. Finnerty, J.D. (2007) Project Finance Asset-based Financial Engineering (2nd ed.). Wiley, Hoboken, Nueva York. Garayalde, M.L. (2014) Las microfinanzas aplicadas a la financiación de proyectos de infraestructura: el caso de la construcción de pozos en Etiopía. Doctoral Thesis. Universidad Complutense de Madrid. Julián, R. y Mascareñas, J. (2014) Financiación de Proyectos (Project Finance). Monografías de Juan Mascareñas sobre Finanzas Corporativas 46. Available in SSRN: http://ssrn.com/abstract=2407394 accesed 10 agost 2018. Kensinger, J.W. y Martin, J.D. (1989) Project finance: raising money the old-fashioned way, Journal of Applied Corporate Finance, Nº 3, pp. 69-81. Nevitt, P.K. y Fabozzi, F. (2000) Project Financing (7th ed). Euromoney. London. Suárez, A.S. (1995) Decisiones Óptimas de Inversión y Financiación en la Empresa (17th ed). Pirámide. Madrid. Urquía-Grande, E. y Del Campo, C. (2017) Socio-economic factors determining the commitment to participate in an agricultural development project in rural Ethiopia. Iberoamerican Journal of Development Studies, Vol. 6, 2 Jul-Dec, pp. 4-27.
Collections