Publication:
Soporte de calidad de servicio en Linux para procesadores equipados con la tecnología Intel CAT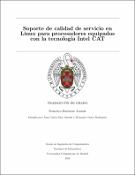 Files
Authors
Advisors (or tutors)
Editors
Abstract
Los procesadores multicore integran en un mismo chip múltiples núcleos de procesamiento; todos ellos comparten recursos, como niveles de la jerarquía cache o el controlador de memoria. Sin embargo, el hardware por sí mismo no otorga a las aplicaciones una fracción de los recursos compartidos proporcional a la prioridad que establece el usuario. Esto supone un serio problema para el sistema operativo, ya que la contención por recursos compartidos puede afectar muy negativamente a la calidad del servicio que el sistema ofrece. Se propone en este trabajo un algoritmo de gestión de los recursos compartidos en tiempo real para optimizar la justicia durante la ejecución de procesos con la misma prioridad. Este algoritmo se implementa en un módulo del kernel Linux utilizando la herramienta open source de monitorización PMCTrack para hacer uso de su soporte de las tecnologías Intel CAT (Cache Allocation Technology) e Intel MBM (Intel Memory Bandwidth Monitoring), presentes en procesadores Intel de la familia Xeon E5-v4, así como para monitorizar métricas de rendimiento proporcionadas por los contadores hardware.
Multicore processors are made up multiple cores in the same chip; all of them shares resources, such as last levels in the cache hierarchy or the memory controller. Nevertheless, hardware doesn't provide by itself a proportional fraction of them in relation to user-defined task's priority. This is a a serious problem for the operating system, existing contention at shared resources can negatively affect to the quality of the service offered by the system to the user. This work purposes a shared resources management real time algorithm in order to optimize fairness while are running tasks with the same priority. This algorithm is deployed on a Linux kernel module using the open source monitoring tool PMCTrack which supports Intel CAT (Cache Allocation Technology) and Intel MBM (Intel Memory Bandwidth Monitoring) technologies, integrated on Intel Xeon E5-v4 series, as well as the capability to monitor performance metrics through hardware counters.
Description
Universidad Complutense, Facultad de Informática. Departamento de Arquitectura de Computadores y Automática, curso 2017/2018