Publication:
Limitación del esfuerzo terapéutico en Medicina Interna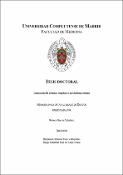 Files
Authors
Advisors (or tutors)
Editors
Publisher
Universidad Complutense de Madrid
Abstract
Con los avances tecnológicos del siglo XX, surge la idea de que no todo lo técnicamente posible es éticamente justificable, naciendo así el concepto de limitación del esfuerzo terapéutico (LET). Existe una gran confusión terminológica por parte de la propia comunidad médica, lo que hace que no se maneje correctamente en muchas ocasiones el concepto ni las situaciones del final de vida de los pacientes. Sin embargo, con los últimos hechos recientes, como la aprobación de la Ley de Eutanasia, o la pandemia de la COVID19, se ha hecho más notoria la necesidad de conocer estos conceptos en profundidad. Para llevar a cabo la LET es necesario seguir un proceso riguroso en el cual un paso importante es conocer los deseos del paciente. Estas medidas, estudiadas ampliamente en múltiples ámbitos de la medicina (como son los Cuidados Intensivos o la Geriatría), y poco en el entorno de la Medicina Interna, se ha visto que se llevan a cabo en pacientes pluripatológicos y añosos. También se ha visto que conllevan una importante carga de estrés moral en los profesionales que las aplican. Se plantea como hipótesis principal el hecho de que la LET es muy frecuente en Medicina Interna y que, sin embargo, los internistas no la conocen de forma adecuada, lo que puede llevar a que su manejo no sea el correcto...
With the technological advances of the 20th century, the idea arises that not everything that is technically possible is ethically justifiable, thus giving rise to the concept of withholding and withdrawing treatment (WH-WD). There is a great deal of confusion on the terminology within the medical community, which means that the concept of WH-WD treatment and end-of-life situations of patients are not handled correctly on many occasions. However, considering recent events, such as the approval of the Euthanasia Law, or the COVID19 pandemic, the need to know these concepts in depth has become more evident. To carry out WH-WD treatment it is necessary to follow a rigorous process in which an important step is to know the patient's will. These actions, widely studied in multiple fields of medicine (such as Intensive Care or Geriatrics), and less so in the environment of Internal Medicine, have been seen to be carried out in multi-pathological and elderly patients. It has also been seen that they carry a significant load of moral stress on the professionals who apply them. The main hypothesis is the fact that WH-WD treatment is very frequent in Internal Medicine and that, however, internists do not know it adequately, which may lead to its management being incorrect...
Description
Tesis inédita de la Universidad Complutense de Madrid, Facultad de Medicina, Departamento de Medicina Legal, Psiquiatría y Patología, leída el 08-07-2021
Collections