Publication:
Tin and titanium oxide nanostructures and their PEDOT:PSS-based composites: applications in solar cells, thermoelectrics and gas sensors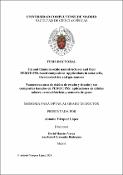 Files
Authors
Advisors (or tutors)
Cremades Rodríguez, Ana Isabel
Editors
Publisher
Universidad Complutense de Madrid
Abstract
Wide band gap semiconductors based on inorganic materials such SnO, SnO2or TiO2 present excellent chemical properties which make them suitable for different energy-related application such as Li-ion batteries, gas sensing or solar cells. Their involvement in such applications could be improved with controlled fabrication methods as well as by controlled doping to modify their morphology, sizeor optoelectronic properties. Besides, organic materials have attracted growing interest due their outstanding unique properties as flexibility, malleability or low cost. PEDOT:PSS is an organic polymer which possesses not only p-type conductivity but also transparency to visible light, valuable properties for energy applications...
Los semiconductores de band gap ancho basados en materiales inorgánicos como el SnO, el SnO2 o el TiO2 presentan excelentes propiedades físicas y químicas que los hacen adecuados para diferentes aplicaciones relacionadas con la energía, como las baterías de ion de litio, la detección de gases o las células solares. Su empleo en estas aplicaciones podría verse mejorado con métodos de fabricación controlados así como mediante la introducción de dopantes de manera controlada para modificar su morfología, tamaño o propiedades optoelectrónicas. Además, los materiales orgánicos han suscitado un interés creciente debido a sus excepcionales propiedades, como la flexibilidad, la maleabilidad o el bajo coste. El PEDOT:PSS es un polímero orgánico que posee no sólo conductividad de tipo p, sino también transparencia a la luz visible, propiedades valiosas para las aplicaciones energéticas...
Description
Tesis inédita de la Universidad Complutense de Madrid, Facultad de Ciencias Físicas, Departamento de Física de Materiales, leída el 26-11-2021