Publication:
Functional 3D Nanostructures (3D alumina membranes and 3D nanowire-networks)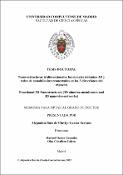 Files
Advisors (or tutors)
Editors
Publisher
Universidad Complutense de Madrid
Abstract
This Thesis has been focused on the development of functional nanostructures for a variety of applications, from structural coloring to magnetic nanostructures with tailored properties and highly efficient thermoelectric metamaterials. In all cases, the fabrication of such nanostructures has been based on two processes: aluminum anodization and electrochemical growth. Both are chemical processes, which need no vacuum and that are well known at the industrial level. The results that are presented in this manuscript represent the state of the art of both techniques, which is well endorsed by the publications that have resulted from it.In brief, the main objective pursued in this Ph.D. Thesis has been to prove the versatility of a recent kind of alumina membranes, consisting of longitudinal pores that are transversely perforated by smaller pore channels, in the development of future nanotechnology applications. These 3D-Anodic alumina templates (3D AAO) have been studied by themselves, but also used as templates to grow different materials and tune their properties...
Este trabajo de tesis se centra en el desarrollo de nanoestructuras funcionales interconectadas para diversas aplicaciones, desde la obtención de color estructural a la fabricación de metamateriales magnéticos con propiedades modificadas, así como metamateriales termoeléctricos de alta eficiencia. En todos estos casos, la fabricación de estas nanoestructuras se ha basado en dos procesos: anodización de aluminio y crecimiento electroquímico. Ambos son procesos químicos que no requieren de vacío y que son muy conocidos a nivel industrial. Los resultados que se presentan en este manuscrito muestran el estado del arte en ambas técnicas, lo que queda patente por las publicaciones científicas a las que este trabajo ha dado lugar. Brevemente, el objetivo principal de esta Tesis ha sido probar la versatilidad de un tipo de membranas de alúmina desarrolladas recientemente para el desarrollo de futuras aplicaciones nanotecnológicas. Estas membranas consisten en poros longitudinales que están unidos por poros transversales más pequeños que forman canales que los conectan. Estas membranas de alúmina tridimensionales (3D-AAO, del inglés 3D Anodic Aluminum Oxide) se han estudiado, por un lado, como plataformas para la generación de dispositivos en sí mismas, y, por otro lado, como plantillas para crecer en su estructura porosa distintos materiales y nanoestructurarlos, modificando de este modo sus propiedades...
Description
Tesis inédita de la Universidad Complutense de Madrid, Facultad de Ciencias Físicas, leída el 09-03-2022
Collections