Publication:
Estudio de la ley de Okun para dos economías características (el caso de Reino Unido y el milagro alemán)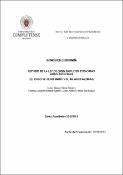 Authors
Advisors (or tutors)
Editors
Abstract
El objetivo de este trabajo es estimar la ley de Okun para las economías de Reino Unido y Alemania con datos trimestrales en el período 1999-2012. Esta relación empírica entre la variación absoluta de la tasa de desempleo y el output gap (diferencia entre tasa de crecimiento observada del PIB y su tasa potencial de crecimiento) viene a decir que la tasa de paro aumentará (disminuirá) en una determinada proporción del output gap cuando éste es positivo (negativo). De esta forma pueden analizarse algunas características diferenciales de los mercados laborales de ambos países a través de los distintos coeficientes obtenidos para ambas economías. Además se analiza si la sensibilidad de esta relación – el denominado coeficiente Okun – es estable a lo largo del tiempo. En concreto, se analiza si la reforma laboral alemana – con la generalización del Kuzarbeit – a partir del año 2009, que pretende que el paro no aumente demasiado en períodos de bajo crecimiento, ha generado un cambio estructural en los coeficientes que caracterizan la ley de Okun. Los resultados indican que la sensibilidad de las variaciones del desempleo al crecimiento del PIB es inferior en Reino Unido que en Alemania hasta el año 2009. Sin embargo a partir de ese año se ha producido una fuerte caída en el coeficiente de Okun en Alemania que puede ser debida a la reforma laboral y que conlleva una menor sensibilidad de las variaciones del paro a los cambios del PIB hasta hacerlas casi desaparecer, determinando, además que la tasa necesaria para que descienda el desempleo pase a ser virtualmente nula. ABSTRACT: The aim of this paper is to estimate the Okun Law in two advanced economies for the period 1999-2012 using quarterly data: the United Kingdom and Germany. This empirical relationship establishes a negative relationship between changes in the unemployment ratio and the output gap. This allows us to compare the job market characteristics in both countries through the estimated parameters of the Okun law. In addition, we analyze whether the sensibility of this relationship – the so-called Okun's coefficient – is stable over time or affected by changes in the labor policy. The results confirm that GDP growth needed to reduce unemployment is lower in Germany than in the UK. Additionally, until 2009, the sensitivity of unemployment to changes in GDP is lower in the United Kingdom. Since this year, after Germany generalized Kurzarbeit through a new labor reform in order not to increase unemployment in periods of low GDP growth, the Okun coefficient and the output growth ratio needed to lower the unemployment ratio have decreased dramatically in this country.
Description
Facultad de Ciencias Económicas y Empresariales. Curso Académico 2012/2013
Citation
- Belmonte, A. y Polo, C. (2004): Formulaciones de la Ley de Okun y resultados para España. Estudios en homenaje a Luis Ángel Rojo, pp. 263-279. Editorial Complutense S.A. - Blanchard, O, A. Amighini y F. Giavazzi (2012): Macroeconomía, Editorial Pearson, 5ª edición. - Doménech, R. y Gómez, V. (2005): Ciclo Económico y Desempleo Estructural en la Economía Española, Investigaciones Económicas, 29 (2), pp. 259-288. - Freeman, D. (2000): "Regional Tests of Okun's Law", International Advances in Economic Research, 6 (3), pp. 557-570. - Gordon, R. (1984): "Unemployment and Potential Output in the 1980s", Brookings Papers on Economic Activity, 15, pp. 537-64. - Knotek, E, S. (2007): "How Useful Is Okun's Law", Economic Review, Federal Reserve Bank of Kansas City, Fourth Quarter 2007, pp 73–103. - Krugman, Wells y Olney (2007): Fundamentos de Economía, Editorial Reverté. - Lal, I., M., S.D., Anwar, M. y A. Hussain (2010): "Test of Okun's Law in Some Asian Countries. Co-Integration Approach", European Journal of Scientific Research, 40 (1), pp. 73-80. - Maza, A. y Villaverde, J. (2007): Okun's Law in the Spanish Regions, Economics Bulletin, 18 (5), pp. 1-11. - Okun, A (1962): "Potential GNP, its measurement and significance ", Cowles Foundation, Yale University. - Sögner, L. Y. A. Stiassny (2002): "An Analysis on the Structural Stability of Okun's law: A CrossCountry Study" Applied Economics, 14, pp. 1775-87. - Usabiaga, C. (2010): La Relación entre el Crecimiento, el Desempleo y el Empleo: El Caso Español, Cuadernos de Información Económica, 214, Enero-Febrero, pp. 83-88.
Collections