Publication:
Absentha, a propósito de una intoxicación. Su influencia en la pintura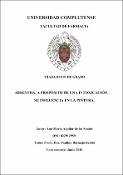 Authors
Advisors (or tutors)
Editors
Abstract
Absentha, a propósito de una intoxica El ajenjo, Artemisia absinthium L., especie usada tradicionalmente como antipirético, antifúngico y antiparasitario, se hizo especialmente famosa por el consumo como bebida espirituosa, absenta, desde finales del siglo XIX hasta principios del XX, sobretodo por los grandes artistas europeos de la época, especialmente pintores, cuyos trabajos se ven influenciados por este hábito. Fue prohibida durante casi 70 años por sus potentes efectos tóxicos y por el gran problema de Salud Pública que suponía. Tras la reciente relegalización de la bebida en la Unión Europea y más recientemente en los Estados Unidos, su consumo vuelve a estar de moda, sobretodo entre la población juvenil. Este trabajo pretende revisar la información existente actual, tanto de la planta como de la bebida, y describir la misma, su producción, consumo, y límites legales actuales, además de ver cómo estuvo influenciada la pintura por el hábito de consumo de absenta.
Wormwood, Artemisia absinthium L., specie traditionally used as an antipyretic, antifungal and antiparasitic agent, it was particularly notorious for its consumption as an alcoholic drink, Absinthe, from the end of the 19th century up to start of the 20th century, especially by famous European artists of the time, such as painters, whose work turned out to be influenced by habit. It was banned for almost 70 years due to its powerfully poisonous effects as well as public health problems it created. After the recent re-legalization of the drink in the European Union and more recently, in the United States, it is once again in fashion, especially with the youth population. This work aims to review the current existing information on both the plant and the drink, and to describe the plant itself, its production, consumption, and current legal limits, and see how the painting was influenced by the habit of consuming absinthe.