Publication:
New insights into the Late Ordovician magmatism in the Eastern Pyrenees: U–Pb SHRIMP zircon data from the Canigó massif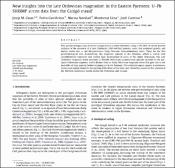 Advisors (or tutors)
Editors
Publisher
Elsevier Science B. V., Amsterdam
Abstract
New geochronological data from the Canigó massif (Eastern Pyrenees) using U–Pb SIMS on zircon provide evidence of the existence of a Late Ordovician (456–446 Ma) plutonic event that emplaced granitic and dioritic bodies into a Late Neoproterozoic–Early Paleozoic metasedimentary series. These are the first geochronological data documenting this magmatic episode in the Pyrenees, which is coeval with synsedimentary volcanism and normal fault development in rocks of the Upper Ordovician. This Late Ordovician magmatic event postdates a ?Middle Ordovician compressional episode recorded in the pre- Upper Ordovician sequence, and is distinct from an Early Ordovician magmatic event that gave rise to the protoliths of large gneissic bodies cropping out in the Pyrenees. This evolution argues against a continuous extensional regime related to the opening of the Rheic or the Rheic and Paleotethys oceans in this segment of the Northern Gondwana margin during the Ordovician and Silurian.
Collections