Publication:
Del impuesto a la tierra al impuesto al capital: impuestos y reforma agraria en Argentina, 1958-1976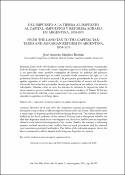 Advisors (or tutors)
Editors
Publisher
Instituto de Investigaciones Dr. José María Luis Mora (México)
Abstract
Entre 1958 y 1976 la idea de incidir sobre la riqueza terrateniente –en particular la de las Pampas– a través del sistema impositivo ganó en el debate público argentino (y en particular entre aquellos encargados de diseñar las políticas del gobierno nacional) una intensidad que no había conocido desde comienzos del siglo xx. Los problemas fiscales del tesoro nacional y la percepción generalizada de que el sector agrario argentino se había estancado, lo que obstaculizaba el avance del desarrollo industrial, fueron las dos principales fuentes que impulsaron ese debate y los intentos reformistas. Además, como se verá, los intentos de reformar la imposición sobre la tierra causaron graves conflictos entre los propietarios rurales y el Estado. El fracaso de los intentos de reforma, como consecuencia de esos conflictos, moldeó el sistema impositivo argentino en el largo plazo.
Between 1958 and 1976, the Argentine national governments repeatedly attempted to tap on land wealth through the reform of the tax system. This idea became a major topic in Argentine political debates during the period. This intense debate was fuelled by the fiscal problems of the national Treasury and a widespread belief in the idea that Argentine rural sector was stagnant and, therefore, had become an important obstacle to the industrial development of the country. Besides, the attempts at reforming taxation on land caused serious conflicts between rural proprietors and the national (and sometimes provincial) authorities. The failure of the reformist projects, due to the above-mentioned conflicts, shaped in the long run Argentine tax system.
Collections