Publication:
Tamb-ON: Juego de ritmo con creación de nivel basada en MIDI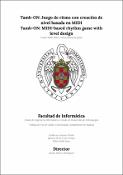 Advisors (or tutors)
Editors
Abstract
Tamb-On es un juego de ritmo que representa las notas de las canciones con círculos de colores. Cada círculo simboliza una nota, de forma similar a cómo se representan en el juego "Taiko no Tatsujin". La característica principal del juego es que permite la integración de niveles basados en MIDI, o lo que es lo mismo, que un jugador puede introducir sus canciones favoritas y jugarlas. En esta memoria se habla sobre el TFG de "Tamb-on", explicando cómo se desarrolló el juego, las dificultades encontradas, qué se aprendió en este desarrollo, pues algunos integrantes eran novatos en la creación de videojuegos. La memoria finaliza con unas conclusiones, además de una discusión sobre posibles mejoras en el futuro.
Tamb-On is a rhythm game that depicts the songs' notes with colored circles. Each circle represents one note, in a similar way to how they are represented in the game "Taiko no Tatsujin". The main feature of the game is that it allows the integration of MIDI-based levels, meaning that the player can set up their favorite songs and play them in game. This paper centers around Bachelor's Thesis Project "Tamb-on", explaining how the game was developed, the struggles that had to be overcome, the learning process as well as personal thoughts and opinions. The paper closes with a section for conclusions and suggestions for future improvements.
Description
Trabajo de Fin de Grado en ngeniería Informática y Grado en Desarrollo de Videojuegos, Facultad de Informática UCM, Departamento de Sistemas Informáticos y Computación, Curso 2020-2021