Publication:
Rehabilitación, regeneración y renovación urbana. experiencias novedosas en cooperativas de viviendas: rehabilitación y mediación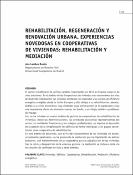 Authors
Advisors (or tutors)
Editors
Abstract
El sector inmobiliario ha sufrido cambios importantes en 2015 en España respecto de años anteriores. En el ámbito de las Cooperativas de viviendas nos encontramos dos vías de desarrollo interesantes: las viviendas existentes no responden a las normas de eficiencia energética exigidas desde la Unión Europea, y ello obliga a su rehabilitación; además, debido a la crisis económica, hay viviendas cuya construcción se ha paralizado y hay una importante oferta de viviendas nuevas sin dueño, o en litigio debido a problemas de impago. Así, se ha iniciado un nuevo modelo de gestión de cooperativas de rehabilitación de viviendas: desde las Administraciones, las entidades asociativas representativas del sector, las entidades financieras y los colegios profesionales, se impulsa el desarrollo de la gestión de la rehabilitación de edificios de forma individual, o en grupos constituidos como cooperativa de rehabilitación. En otro ámbito de desarrollo, con el fin del relanzamiento de las viviendas sin dueño, actualmente paralizadas, se ha promovido la mediación para la liquidación de activos bancarios, con mantenimiento de la cooperativa para la adjudicación de las viviendas tras la crisis y desaparición de la empresa gestora. La mediación se instaura como vía de solución de conflictos en éste y otros ámbitos.
In 2015, the property sector in Spain has undergone major changes compared to previous years. Two interesting development routes can be found in the field of housing cooperatives: the existing housing stock does not meet the energy efficiency required by the European Union and therefore needs to be rehabilitated, and the economic crisis has led to buildings under construction being halted and a considerable supply of new housing with no owner or with disputed ownership owing to default problems. In response, a new cooperative housing rehabilitation management model has been born, with government bodies, sector associations, financial institutions and professional bodies promoting the development of building rehabilitation management, whether individually or grouped together in a rehabilitation cooperative. In the other area of development, relaunching ownerless housing that is currently at a halt, mediation has been promoted for liquidating bank-owned assets following the crisis and disappearance of the management company, maintaining the cooperative to adjudicate the housing. Mediation is becoming a conflict resolution route in this and other areas.
Collections